April 2016 - April 2017. Hard Classic Truck Tonneau Cover.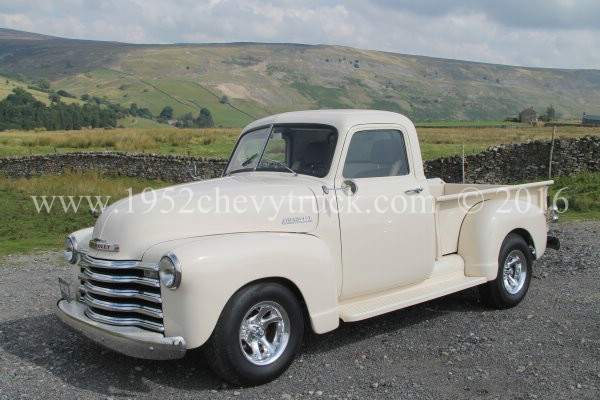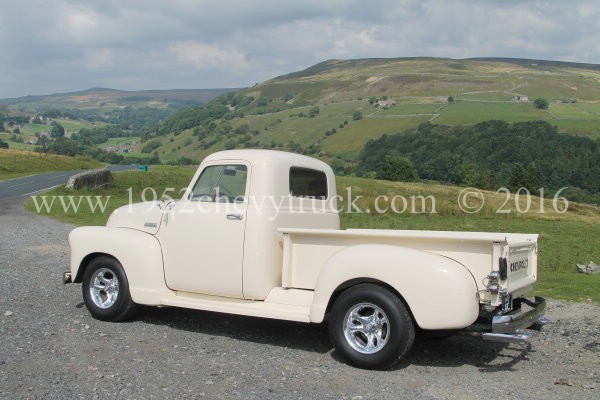 I have decided to market this product and anyone interested
will be able to purchase a complete kit.
Our aims -
• A hard tonneau cover. Must be completely rigid and not sag.
• Cover must look like it has been manufactured like a modern truck tonneau cover. Factory quality.
• Zero impact. Must be possible to fit it without drilling any holes in the truck. All paint work protected.
• Must not detract from the appearance of the truck.
• With the cover removed and just the hardware kit showing it must still look amazing.
• When the cover is fitted but open it must still look fantastic and not detract in any way from the appearance of the truck.
• Must be possible to remove it quickly and easily (probably under five minutes).
• All materials and finishes must be of the highest quality.
• There must be a choice of hardware support finishes to suit painted or patina trucks.
• A system should be included to prevent water from leaking into the bed.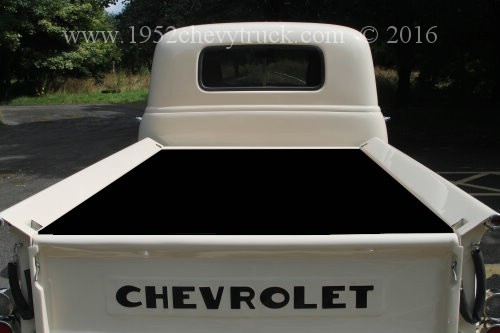 You can see an "impression" of what it will look like above.
Also note -
• Tonneau covers reduce drag and improve fuel consumption.
• Tonneau covers protect the bed planks from water damage.
• Tonneau covers enable items to be carried in the back with privacy and improved security.
Clarifications -
1.
After a year of development this project is close to completion.
2.
Zero impact. Wait and see how this is achieved.
3.
The all important appearance. There have been a couple of companies who have made hard covers for
classic trucks, All of these covers have looked pretty bad. That is because these companies prioritised
water proofing over appearance. Their tonneau covers completely cover the whole of the top of the
bed including the "rolls". As for covers which do fit inside the bed rolls, covers on the market
look "flimsy" and are not zero impact. Holes have to be drilled into the truck. Also they are not
easily removed. If the top cover was removed the hardware kit supports would look an a mess.
Often the hardware kit uses lightweight aluminium and holes have to be drilled in the truck.
Also a soft cover is not an option. They go over everything and spoil the look of the truck as well.
There can be a pool of water in the middle due to sag and they are often fastened with press studs
which have been drilled into the truck. Any hard or soft tonneau cover which goes over everything
is not going to show the great traditional shape of the truck.
This cover will go inside the bed and will be level with the top corner of the vertical sections.
The flared out bed sides and rolls will be above the cover. This will result in the appearance of the bed
and the whole truck not being compromised. An impression is shown below. The cover will be very strong.
4.
When the cover is open - Some of the hardware kit will be exposed. The hardware kit to mount the
cover will be made of (optional) mirror polished stainless steel and rather than detract from the
appearance, will add to the appearance. This option will match stainless steel bed rails if fitted.
5.
Water proofing. With a little bit of good design, water proofing is still possible without
ruining the appearance of the truck. Since the cover will sit inside the bed, water channels
and hidden pipes will carry away the water keeping the bed dry.
6.
Security. With this tonneau cover, as long as the tailgate is locked, the cover and bed contents are secure.
The highest possible quality -
Our Zero Impact Ultimate model is built to the very highest no-compromise standards. It is not made to a price.
Whatever it needed to make it suitable for a $100 Grand or £150 Grand ... etc. truck has been done.
Every material used is the highest quality. Every attention to detail has been studied and implemented.
When we say you can run with the cover fitted, or removed with the installation kit showing and
still look fantastic, we mean it. We will prove all of this with pictures very soon.
Tonneau Cover Models -
• At first only our "
Zero Impact Ultimate
" cover (fits without drilling holes in the truck) will be available
This model includes a water drainage system.
• Shortly followed by the "
Bolt On Fast Fit Plus
" model
This model includesncludes a water drainage system.
• Then the "
Bolt On Fast Fit Economy
" model
This model does not include a water drainage system. (There will be prevention measures to stop water
from entering the bed front, back and sides but water may run down the bed corners).
All models will have a choice of hardware kit finishes. Remember all cover can be removed in minutes
and the hardware kit must match and compliment the truck bed.
Watch this space. Remember, no drilling. Zero impact.
The designs have all been completed, templates made and it is being manufactured in a factory.
A full prototype will be ready in April 2017. Photographs will soon be taken.
The cover itself will be black but you could paint it if you wish. Black matches most colours.
It is made of a plastic material for lightness but is webbed reinforced plastic at 30mm thick so very strong.
Update April 2017
- Development work continues. The launch date should be early in May 2017
Update March 2017
- You can now go to our new web site -

Click on the banner above.