Modifying a 1952 Chevy Truck. Original bodywork - modern upgrades.
www.1952ChevyTruck.com

Jan 2016 - Feb. 2016. LED tail lights upgrade.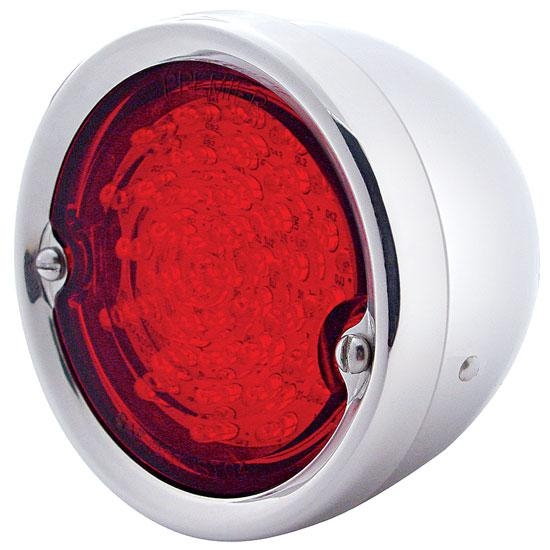 Shown above are the new LED (1955) tail lights used in this upgrade.
It is a few years (2007) since the modern tail lights which came with the truck were removed. They are shown below.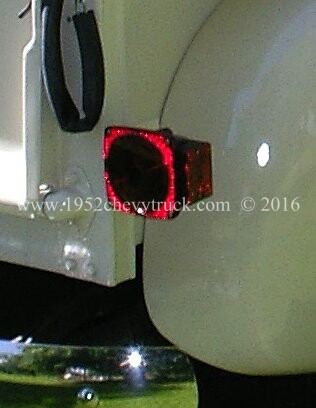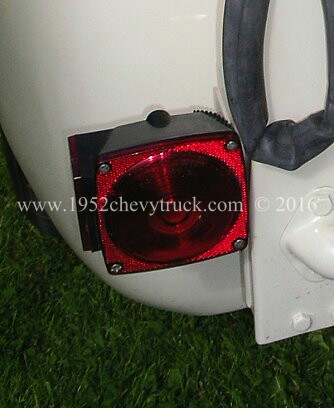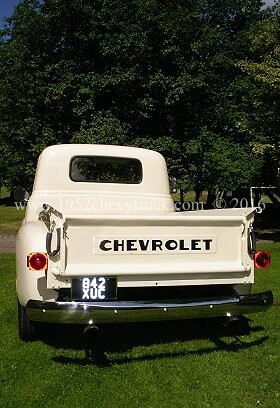 1947-53 tail lights are shown below and the 55 (LED) tail lights are shown at the top of the page.
I preferred the "55" lights and they were fitted. At that time they were only available with filament bulbs.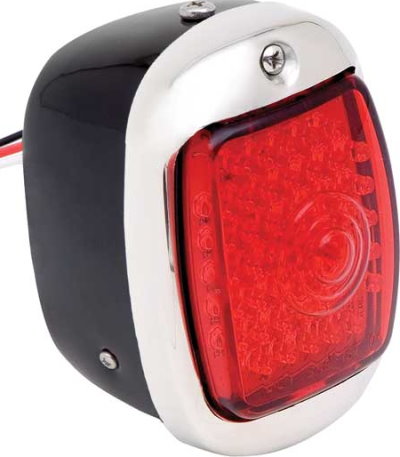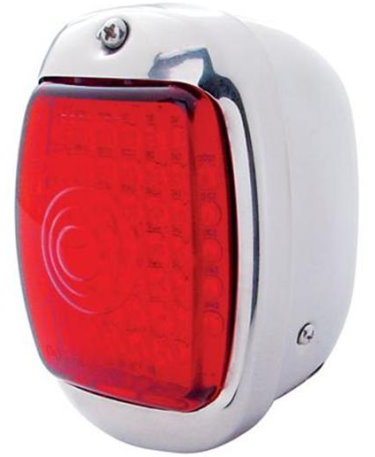 I also thought the 55 lights looked very good when they were stacked with two on each side. The lower lights being
for all of the usual functions and the upper lights used as reversing lights. The upper lights were originally
modified with halogen bulbs and clear lenses. However, the lights were let down by the rubber boots on the back
for cable entry and the black untidy cable wrap. In addition, someone in the past had welded heavy angle on
the sides of the bed stake holders to hold the lights. These lights and old brackets are shown below.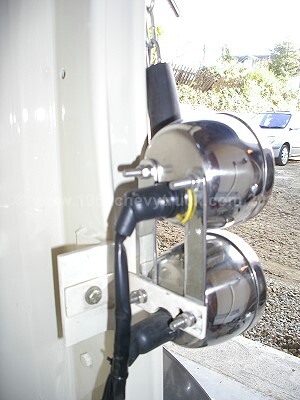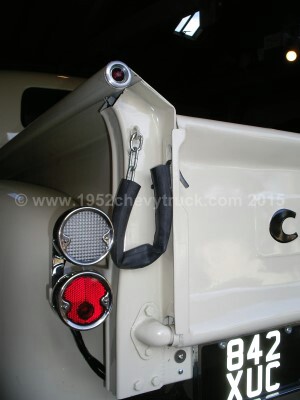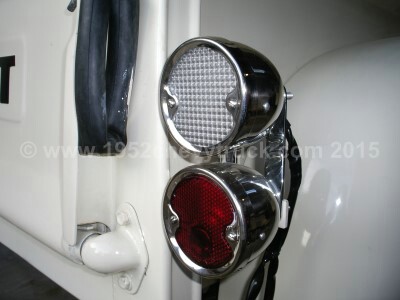 The thick angle has now been removed and replaced with a neat stainless steel bar which bolts into the stake holders.
The pictures below show a temporary steel bar, the stainless bar will replace it after the truck has been painted.
Recently there has been a move to LED lights in the auto industry and now new "55" replacement LED lights have become
available in this format. The lower lights were replaced with this new version and the halogen bulbs were removed from the
upper lights and white LED bulbs were fitted. It was then important to address the cabling problem. By drilling 20m holes
in the back of the lamps (at the cable entry), glands could be fitted and stainless steel flexible conduit used.
The new lower lights only used the bulb holder as a connector and so removing it and drilling a hole at that point was
possible. Another hole higher up in the lower lamp made the cable link from the upper lamp possible. The upper lamp
also had a 20mm hole drilled in place of the lamp holder. A new lamp holder and bulb was fitted above the hole. A 20mm
hole was also drilled near the bottom of the stake holder. The final design and appearance was exactly what I was
looking for. The rear lights are now neat and look excellent.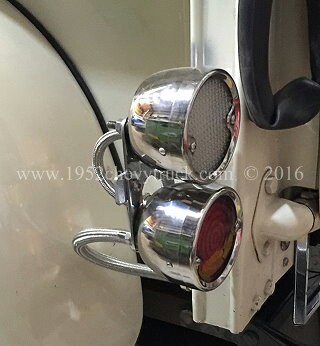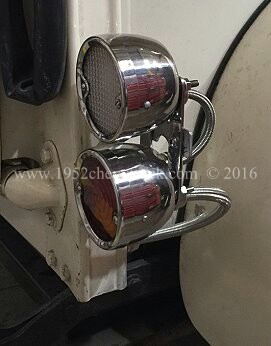 Update 2017
pictures below are from 2016 after the truck was painted.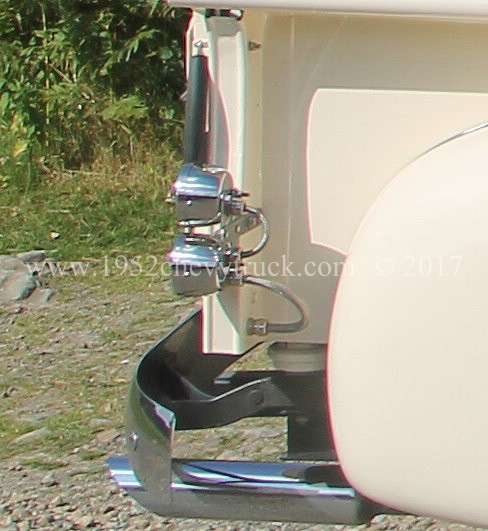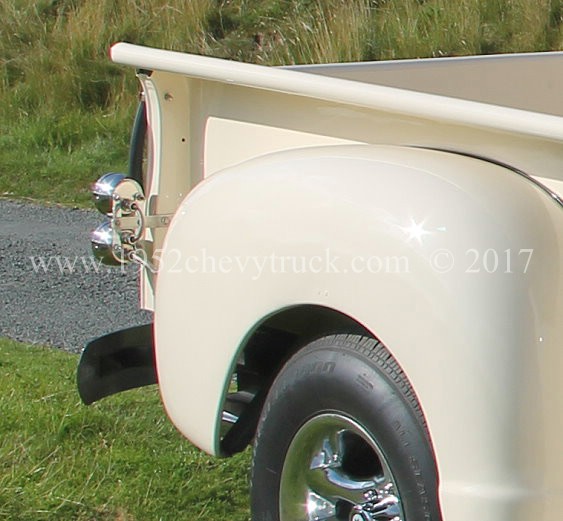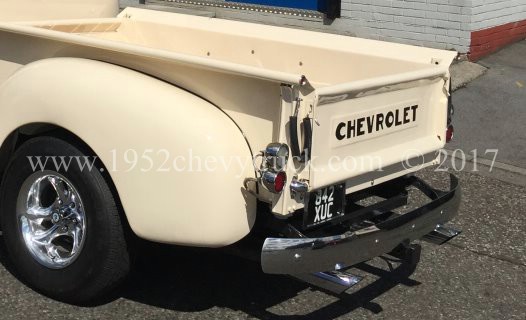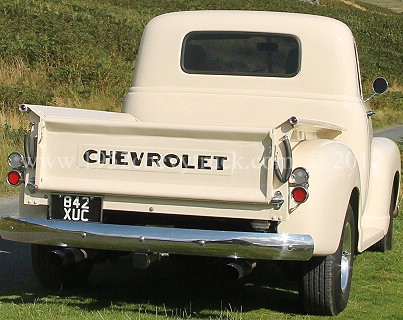 Click on the banner below to go to our Classic Tonneau Cover web site.
Designed for the 1947-53 Check truck -


Link to our own museum site
Rewind Museum. A Museum of vintage consumer electronics.
See
http://www.rewindmuseum.com/vintagesatellite.htm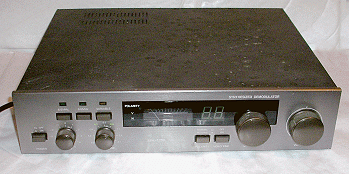 For old Satellite receivers with knobs on!
(and other historic items) - and
Vintage reel to reel video recorders. Vintage VHS
and Betamax VCRs. Vintage video cameras. Vintage
Laser Disc. Vintage Computers. Old telephones,
Old brick mobile phones. Vintage Hi Fi, Old reel
to reel audio and early audio cassette decks.
Including, the history time line of vintage
consumer electronics ... and much more .....
So see,
http://www.rewindmuseum.com/home.htm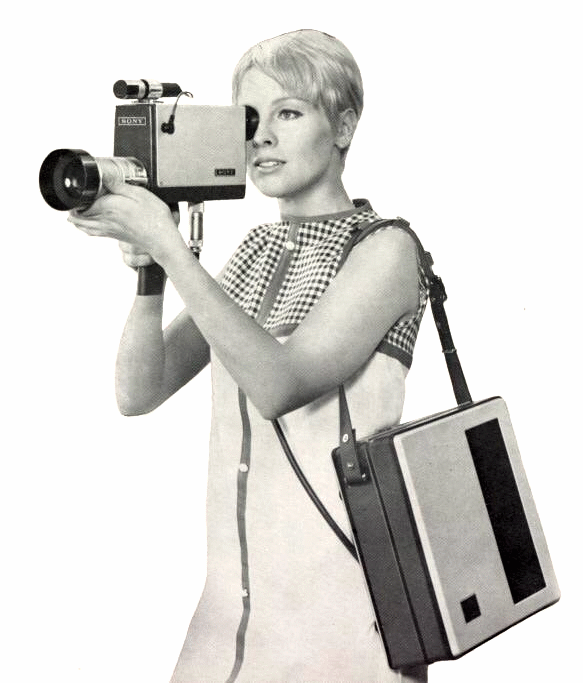 It is well worth a visit.
Only The
Satellite Superstore
brings you
great products, advice and it's own museum


A Useful Search Engine.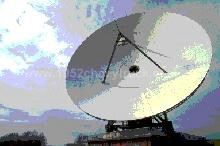 Google.
An excellent very comprehensive search engine. Find everything.
Probably the biggest search engine in the world.
www.google.com

Link to our main site. Satellite TV.
Sponsored by Vision International.
Note. One of our businesses, Vision International (established 1991) sponsors the
1952 Chevy truck site including financial support for this web site.
Vision International is one of a group of businesses that we have in the field of
Satellite TV. This is a link to our sponsor.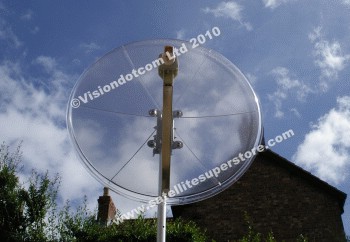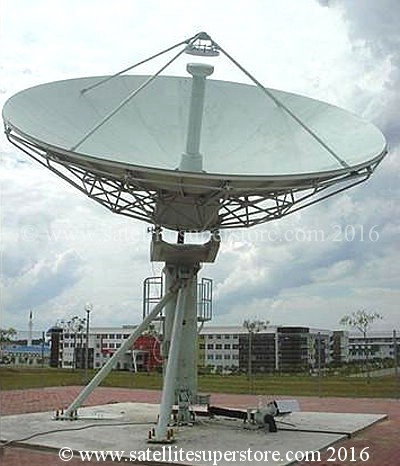 Tune in an extra 10,000 channels? No you don't need a large dish but we do sell
big dishes as well. Watch the world? Links to some of the pages are below,
Satellite dishes
Transparent Dishes
Motorised dishes
LNBs
Satellite Receivers
Mobile / caravan satellite
Multiswitches
Satellite finder meters
All satellite products.
This 1952 Chevy truck web site is maintained on a non-profit
making voluntary basis. Our main business website is at
www.satellitesuperstore.com/cat.htm
Our main business is satellite TV and we are a specialist
satellite company. We supply satellite goods in the UK
and worldwide including fixed and motorised satellite
systems, accessories, and installation equipment.

Web site copyright © 2017 Vision International. All rights reserved.
For all questions & comments about this site's content, contact - Dave
using our
Contact Form
(We only accept questions in English.)