Modifying a 1952 Chevy Truck. Original bodywork - modern upgrades.
www.1952ChevyTruck.com



The 1952 Chevy truck web site.
Click here to enter
The 1952 Chevy Truck Web Site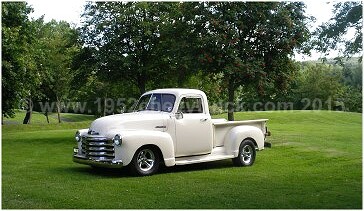 www.1952ChevyTruck.com

Web site copyright © 2021 Vision International. All rights reserved.
For all questions & comments about this site's content, contact - Dave
using our
email address -
(We only accept questions in English.)
Little is known about the truck before 1998 but in that year it was owned by Terry Cauldwell in Greenville
South Carolina. He bought the truck and restored it in that year. Significant funds were spent on many new
and reconditioned parts but the workmanship of the people he employed was not very high. It was in 1998
that the original straight 6 engine and manual transmission was replaced with the Chevy small block V 8 and
automatic transmission. The front suspension was upgraded to the Mustang 2 front clip, the rear suspension
is 1992 Chevy Caprice, the interior was re-upholstered and the whole truck was painted. In June 2007 it was
purchased by the current owner, David Craig, who saw it on e-bay, flew to South Carolina and shipped it to
the UK. It was transported to Baltimore docks and then shipped to Liverpool and driven home. It was
registered in Newcastle Upon Tyne. Since then many new parts and much work has been done.