Modifying a 1952 Chevy Truck. Original bodywork - modern upgrades.
www.1952ChevyTruck.com

- August 2015 - October 2015. Changing the front springs (again).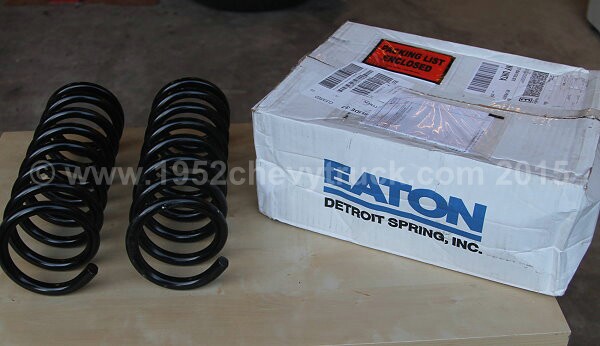 The aims, To make the front of the truck the required height. To improve the ride.
The first set of new springs came from
Eaton Springs
in Detroit USA. This company have been making springs since 1937
and the owner, Gary, is very helpful. We have corresponded many times by email and occasionally I have spoken to him on
the phone. A set of Mustang 2 (Mustang II) springs cost about £78.00 ($109) + shipping. The springs have a rating
specification and it is important to buy the correct springs for the front end weight of your truck and the required ride
height. Unfortunately it is not that simple. When you fit the springs you may find the ride height is still not ideal for your
own preferences. Everyone has their own ideas about how they want their vehicle to look. Do you want it to look very
low like a Hotrod? Do you want it to have a ride height more along the lines of an original truck in 1952? Or maybe
something in-between. Maybe these notes will help and you can learn from my experiences. First consider whether or
not your truck has a similar front end as far as weight is concerned. Here we have a 350 cubic inch (5.7L) generation 1
Chevy small block V8 engine, Mustang 2 suspension with power steering, air conditioning and a servo for power assisted
brakes. As far as the cab is concerned, this is a bit further back but it is still forward of the centre line and so the
weight of the seats must be taken into account. The seats are much heavier than the stock bench seat. They are
10-way powered seats out of a GMC Yukon Denali and they weigh between 50 and 60Kg each (110 to 130 lbs).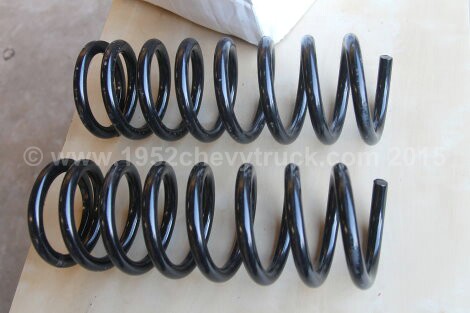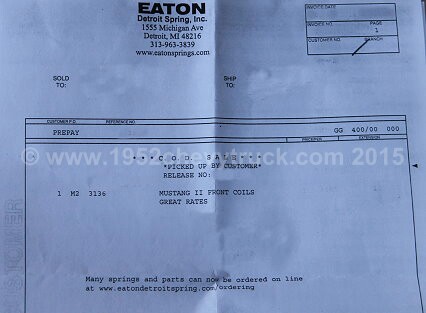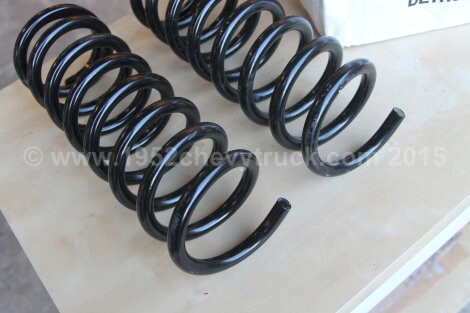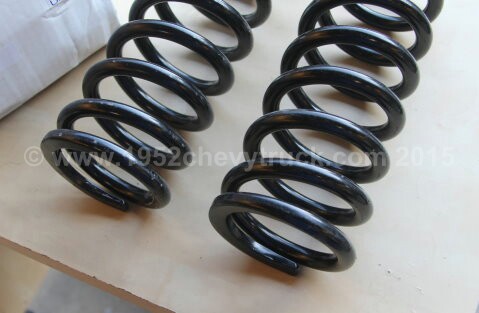 The first springs I tried were:
Eaton Springs model number M21122.
Total load 1561 lbs.
367 lbs per inch.
Internal diameter of coils 3.5 inches.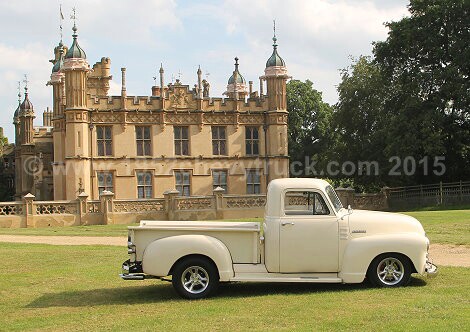 Results:
There was a low ride. "Bump thump" came through from the road (although the "60" profile tyres were part of that problem).
Measuring from the ground, through the centre of the front wheel to the bottom of the wheel arch was 600mm (about 24 inches).
It was not possible to push a trolley jack (even a low type) under the cross member without lifting the front of the truck
manually. This low appearance at the front might be exactly what you are looking for, however it was too low for me. Indeed
it was only after raising the height with new springs that I discovered that the very poor turning circle was due to the
low front end not letting the steering have enough clearance. I did keep these springs on the truck for a few months
but then decided to change them.
The second set of springs I tried were: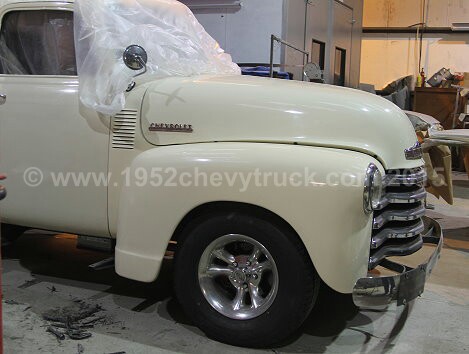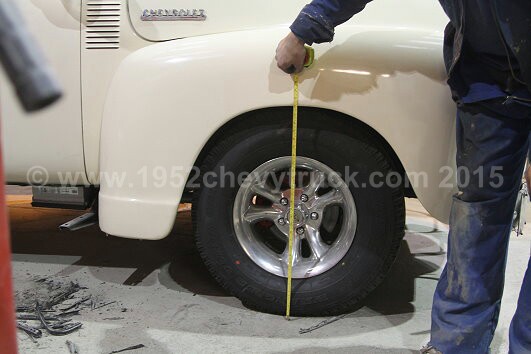 Eaton Springs model number M23136.
Total Load 1500 lbs.
383 lbs per inch.
Wire diameter 0.565 inches.
Free height 13 inches.
Internal diameter of coils 3.5 inches.
Results:
I was hoping for an increase in height of 50mm - 60mm (2" to 2.5") I actually increased the height by 100mm (4 inches)
This brought the truck to a height probably not that dissimilar to an original truck. Maybe a bit lower but similar.
The turning circle was massively improved. The ride was massively improved. (The ride was further improved by increasing
the tyre profile from 60 to 75. The tyres were changed from 225 60 15 to 235 75 15. The theory states that changing the
tyres in this way will increase the height of the truck by 40mm or 1.5 inches, however, I found the effect was smaller
than expected at about 25mm or 1 inch). I now find the truck to be much better than it was but I may change the springs
again with the aim of maybe losing some of the extra height. Maybe try a spring that is between the two types
already tried. Maybe look to lose about 30mm. Watch this space.
Update Aug. 2015
To reduce the height a little, the 383lbs springs were removed and 1/2 a coil was cut off with a mini grinder / 1mm cutting disc.
This dropped the truck and the wheel arch centre to a height of 70cm. There was still plenty of clearance for the steering
and the ride was still good. At some point in the future taking another 1/4 of a coil off may be worth trying but will see
how it goes. Just looking for it to be as low as possible without affecting clearances and without it being so low that
a trolley jack will not easily slide under the front cross member.
Update Aug. 2019
The
TCI Custom ifs
was fitted in 2019 which uses adjustable coil-over springs / shockers.
The adjustability lets you set the height you require and so the experimenting with springs is now over.
Click on the banner below to see our new web site.
It is about a new hard tonneau cover (bed lid) for the 1947-53 Chevy truck.
Model - "Zero Impact Ultimate 3100" Tonneau cover. Fit without drill holes in your truck.
You can read about it and you can
order it
. It is available
now
.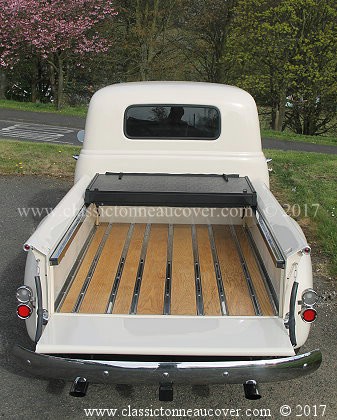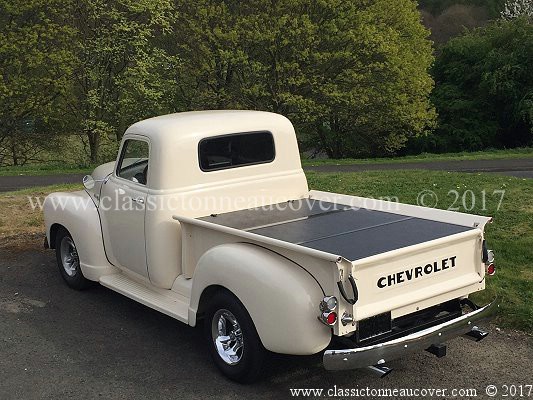 Click on the banner above.
• A hard tonneau cover. Completely rigid, solid and strong. Folding.
• Zero impact. It can be fitted without drilling any holes in the truck. All paint work protected.
• Does not detract from the appearance of the truck. Enhances the appearance of the truck.
• With the cover removed and just the hardware kit showing it still looks "show quality".
• When the cover is fitted but open it still looks excellent and does not detract in any way from the appearance of the truck.
• The cover can be removed in under five minutes.
• All materials and finishes are of the highest quality.
• There is a choice of hardware support finishes to suit painted or patina trucks.
• A water drainage system is included to prevent water from leaking into the bed.
• Better than original factory quality. Just look at the pictures above.
• The model shown is supported by a mirror polished stainless steel installation kit.
• This tonneau cover is for the - 1947, 1948, 1949, 1950, 1951, 1952, 1953 Chevy truck. Advanced design stepside 3100.

Link to our own museum site
Rewind Museum. A Museum of vintage consumer electronics.
See
www.rewindmuseum.com/vintagesatellite.htm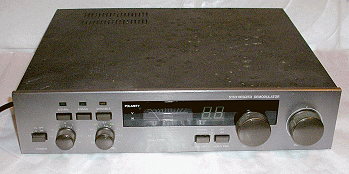 For old Satellite receivers with knobs on!
(and other historic items) - and
Vintage reel to reel video recorders. Vintage VHS
and Betamax VCRs. Vintage video cameras. Vintage
Laser Disc. Vintage Computers. Old telephones,
Old brick mobile phones. Vintage Hi Fi, Old reel
to reel audio and early audio cassette decks.
Including, the history time line of vintage
consumer electronics ... and much more .....
So see,
www.rewindmuseum.com/home.htm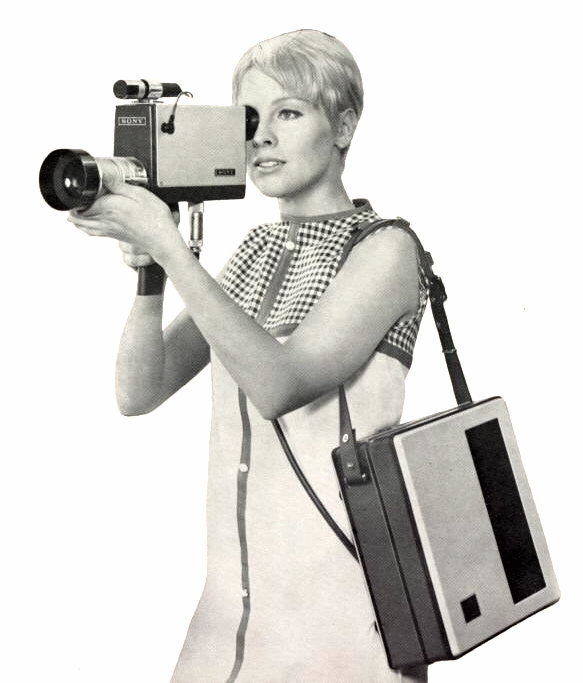 It is well worth a visit.
Only The
Satellite Superstore
brings you
great products, advice and it's own museum


A Useful Search Engine.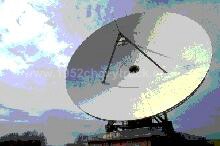 Google.
An excellent very comprehensive search engine. Find everything.
Probably the biggest search engine in the world.
www.google.com

Link to our main site. Satellite TV.
Sponsored by Vision International.
Note. One of our businesses, Vision International (established 1991) sponsors the
1952 Chevy truck site including financial support for this web site.
Vision International is one of a group of businesses that we have in the field of
Satellite TV. This is a link to our sponsor.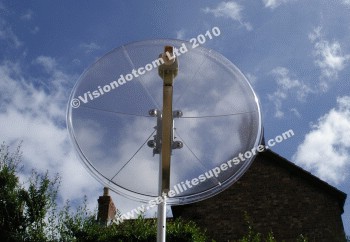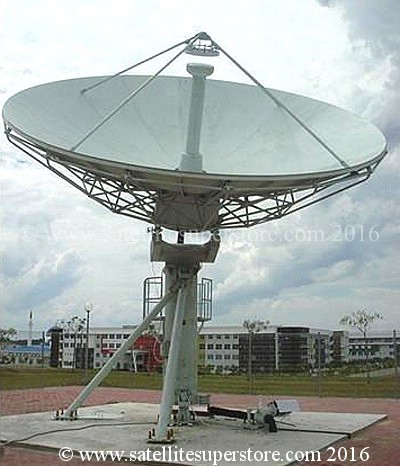 Tune in an extra 10,000 channels? No you don't need a large dish but we do sell
big dishes as well. Watch the world? Links to some of the pages are below,
Satellite dishes
Transparent Dishes
Motorised dishes
LNBs
Satellite Receivers
Mobile / caravan satellite
Multiswitches
Satellite finder meters
All satellite products.
This 1952 Chevy truck web site is maintained on a non-profit
making voluntary basis. Our main business website is at
www.satellitesuperstore.com/cat.htm
Our main business is satellite TV and we are a specialist
satellite company. We supply satellite goods in the UK
and worldwide including fixed and motorised satellite
systems, accessories, and installation equipment.

Web site copyright © 2021 Vision International. All rights reserved.
For all questions & comments about this site's content, contact - Dave
using our
email address -
(We only accept questions in English.)