1952 Chevy Truck Specification.
This is an ongoing project. It is a rolling restoration. Completion 2019
Upgrades and modifications completed so far,
Engine specification,
• 350ci (5.7L) small block, stock, generation 1 Chevy V8.
• Street Demon 1904 carburettor.
• Edelbrock 2701 aluminium inlet manifold
• Electronic ignition.
• GM Performance "Chevrolet" rocker covers.
• Sanderson performance "header" exhaust manifolds.
• SBC aluminium finned deep oil pan with high volume pump and hardened drive shaft.
• Car Plan semi synthetic 10W 40 motor oil.
Transmission specification,
• Extreme Automatics Stage 2, 4 speed 200-4R automatic transmission with overdrive. Aluminium finned oil pan,
• Lokar 24" flexible dip stick tube with dipstick
• "Trick Shift" transmission fluid.
Rear axle,
• Chevy Caprice rear axle. Original leaf springs.
Brakes,
• Upgraded to dual circuit brakes with drums replaced with disc brakes.
• Front - Speedway Motors 11" disc rotors and callipers.
• Rear - drum brakes.
• Speedway Motors stainless steel power assist servo unit and chrome master cylinder.
Steering,
• Speedway motors power steering rack.
• March Performance "Tuff Stuff" chrome saginaw power steering pump and reservoir and Mr Gasket chrome pulley.
• Grant Signature steered wheel.
• Iditit 30" custom steering column with options - key ignition, tilt, column gear selector, wiper control,
cruise control, polished levers, gear selector indicator.
Suspension,
• Front - Mustang 2 with Speedway Motors tubular upper and lower suspension arms.
• Coil springs from Eaton Springs Detroit.
• Bilstein shock absorbers.
• Rear - Leaf springs. 8 leaves reduced to 5
• Bilstein shock absorbers.
• Bump stops from a "Ford Ranger" truck fitted.
Wheels and tyres,
• American Racing 15" Ventura deep dish (-19 degrees) alloy wheels. 8" wide.
• Cornell 1000 235/75 R15.
Other features,
• Spal high performance electric fan.
• Rebel Wire 21 Circuit wiring harness and fuse box.
• Air conditioning.
• 10 way power seats with integral seat belts.
• 21 gallon stainless steel fuel tank under the bed forward of rear axle.
• Heavy duty truck heater.
• HID headlights dipped and main beam.
• LED tail lights.
• Radio CD with 5 speaker surround sound, 5.1 channel amplifier.
• Bosch S5 battery. Battery box modified to take this battery.
• Summit Racing 140A chrome alternator.
• Gauge cluster has been upgraded to modern electric gauges without affecting 1952 original appearance.
• Under-dash rev counter and transmission fluid pressure gauges fitted.
• Single glass windows installed in 1952 doors.
• Truck bed mounted on 4 rubber engine mounts and isolated from frame, body and running boards.
(Eliminates rattles and stress fractures between bed and truck).
• Full size spare wheel under bed behind rear axle.
• No gutter rails to reduce wind noise.
• More legroom for the driver now available due to "podding" the foot-well. Firewall in this area is extended forwards by 2-inches.
• Hirschmann electric aerial.
• Windscreen washer.
• Hard tonneau cover.
Additional,
Sound deadening materials,
Stainless steel nuts and bolts extensively used.
Planned upgrades and modifications for 2018 -
• New cooling package, radiator shroud and better transmission cooler.

Click on the banner below to see a new web site.
It is a hard tonneau cover (bed lid) for a 1947-53 Chevy truck.

Click on the banner above.

Click on the banner below to see our new web site.
It is about a new hard tonneau cover (bed lid) for the 1947-53 Chevy truck.
Model - "Zero Impact Ultimate 3100" Tonneau cover. Fit without drill holes in your truck.
You can read about it and you can
order it
. It is available
now
.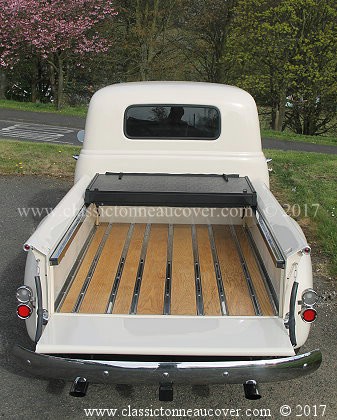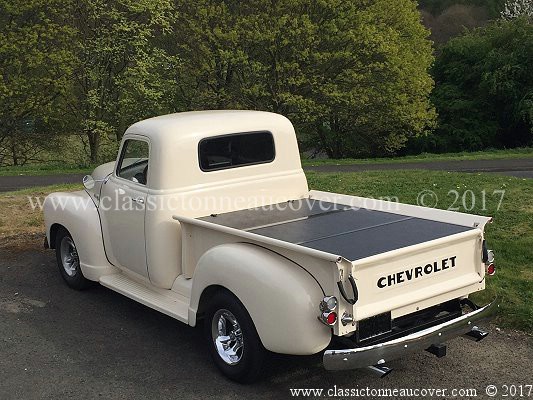 Click on the banner above.
• A hard tonneau cover. Completely rigid, solid and strong. Folding.
• Zero impact. It can be fitted without drilling any holes in the truck. All paint work protected.
• Does not detract from the appearance of the truck. Enhances the appearance of the truck.
• With the cover removed and just the hardware kit showing it still looks "show quality".
• When the cover is fitted but open it still looks excellent and does not detract in any way from the appearance of the truck.
• The cover can be removed in under five minutes.
• All materials and finishes are of the highest quality.
• There is a choice of hardware support finishes to suit painted or patina trucks.
• A water drainage system is included to prevent water from leaking into the bed.
• Better than original factory quality. Just look at the pictures above.
• The model shown is supported by a mirror polished stainless steel installation kit.
• This tonneau cover is for the - 1947, 1948, 1949, 1950, 1951, 1952, 1953 Chevy truck. Advanced design stepside 3100.

Link to our own museum site
Rewind Museum. A Museum of vintage consumer electronics.
See
http://www.rewindmuseum.com/vintagesatellite.htm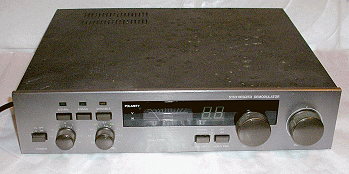 For old Satellite receivers with knobs on!
(and other historic items) - and
Vintage reel to reel video recorders. Vintage VHS
and Betamax VCRs. Vintage video cameras. Vintage
Laser Disc. Vintage Computers. Old telephones,
Old brick mobile phones. Vintage Hi Fi, Old reel
to reel audio and early audio cassette decks.
Including, the history time line of vintage
consumer electronics ... and much more .....
So see,
http://www.rewindmuseum.com/home.htm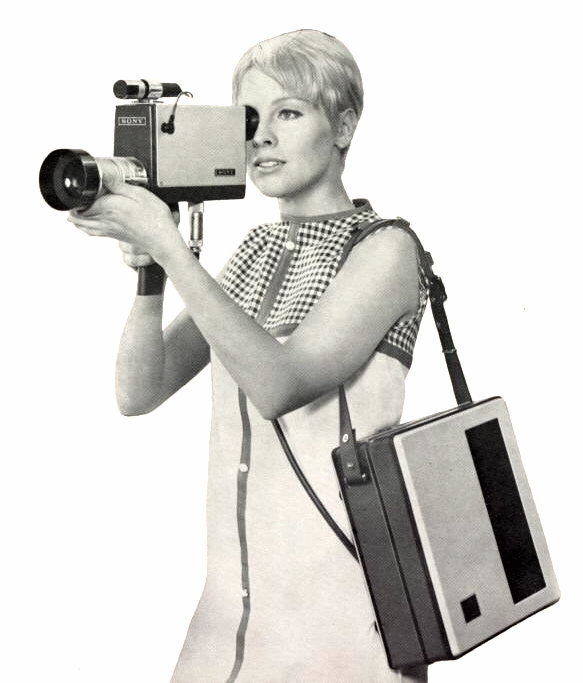 It is well worth a visit.
Only The
Satellite Superstore
brings you
great products, advice and it's own museum


A Useful Search Engine.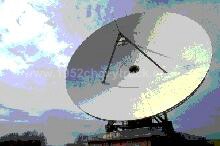 Google.
An excellent very comprehensive search engine. Find everything.
Probably the biggest search engine in the world.
www.google.com

Link to our main site. Satellite TV.
Sponsored by Vision International.
Note. One of our businesses, Vision International (established 1991) sponsors the
1952 Chevy truck site including financial support for this web site.
Vision International is one of a group of businesses that we have in the field of
Satellite TV. This is a link to our sponsor.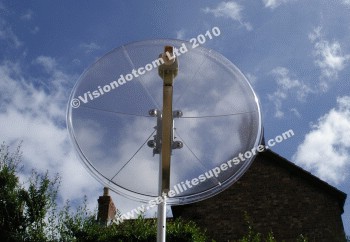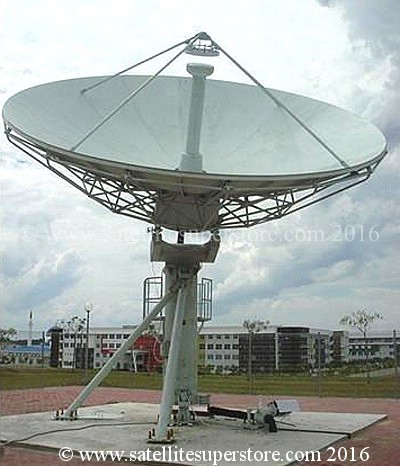 Tune in an extra 10,000 channels? No you don't need a large dish but we do sell
big dishes as well. Watch the world? Links to some of the pages are below,
Satellite dishes
Transparent Dishes
Motorised dishes
LNBs
Satellite Receivers
Mobile / caravan satellite
Multiswitches
Satellite finder meters
All satellite products.
This 1952 Chevy truck web site is maintained on a non-profit
making voluntary basis. Our main business website is at
www.satellitesuperstore.com/cat.htm
Our main business is satellite TV and we are a specialist
satellite company. We supply satellite goods in the UK
and worldwide including fixed and motorised satellite
systems, accessories, and installation equipment.

Web site copyright © 2017 Vision International. All rights reserved.
For all questions & comments about this site's content, contact - Dave
using our
Email
(We only accept questions in English.)