Modifying a 1952 Chevy Truck. Original bodywork - modern upgrades.
www.1952ChevyTruck.com

Fitting a spare wheel.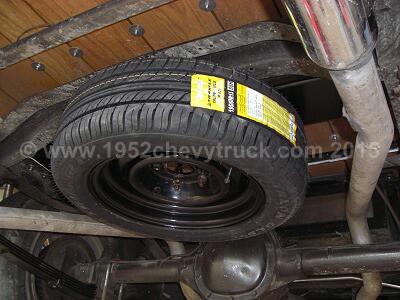 If the under bed fuel tank had been fitted where the spare wheel is supposed to go,
fitting a spare wheel here would not have been an option. By going for the more difficult
option of fitting the fuel tank forward of the rear axle, there was plenty of room behind
the axle to fit a spare wheel. Space savers were considered but these have speed restrictions.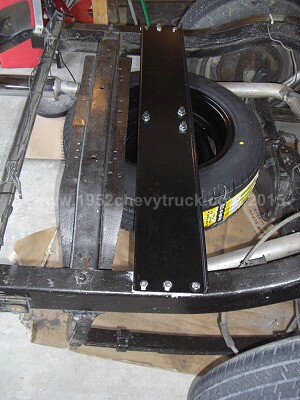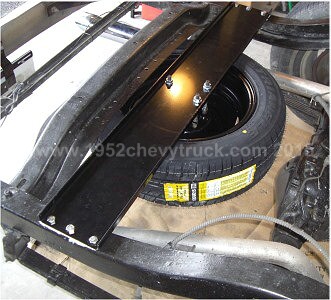 It was decided to fit a 15 inch wheel that was 6 inches wide and use a smaller tyre. The alloy wheels fitted at the
moment are 15 by 7 inches, front tyres are 225/60/R15 and rear 235/75/R15. Next year, after painting the truck,
the wheels will be changed to 16 by 7 inches alloys of the same style. The spare wheel is steel and a more
compact tyre of 195/60/R15 was fitted. Steel channel was fitted across the chassis. 3 studs were bolted to
it and three wheel studs hold the wheel to the channel The studs use the same sized socket as the normal wheel
studs so a common tool can be used. This is a simple fixing method. If there is a puncture, the spare wheel
is dropped and fitted. The wheel / tyre that comes off and has a puncture is simply put onto the truck bed
until it is repaired and re-fitted. This modification along with the large fuel tank and the many
modernisations enable the truck to be used for fast, comfortable long distance journeys. That has always
been the aim but there are more modifications still to be done before this will be fully achieved.
Update 2020
The spare wheel has always been ideal and not changed. A number of wheels and tyres have
been tried but finally the type chosen were 15" Ventura wheels from "American Racing" at 8 inches wide.
These rims have the deepest "dish" available and larger diameter wheels do not have such a deep dish.
Many people fit larger diameter wheels these days but the 15 inch Ventura wheel with it's deep dish
looks very good. The tyres are 235/60R15 98S TL Nankang Rollnex Cross Sport SP9.
The "60" profile helps keep the truck low on a 15" wheel. See picture below.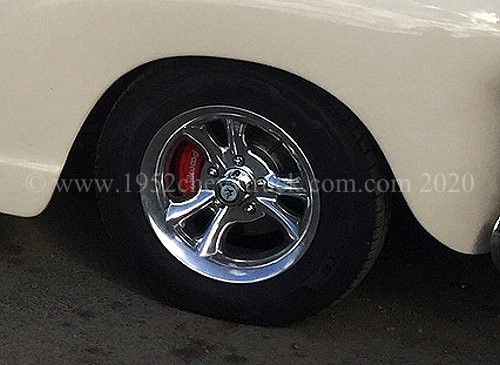 Fitting a 2-inch receiver.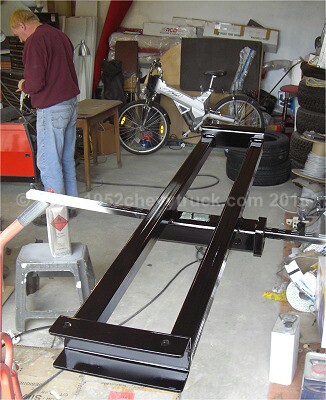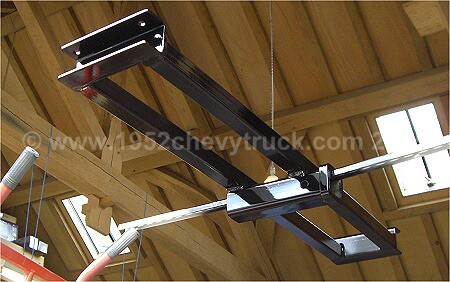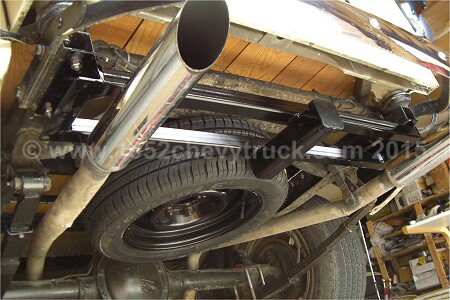 We have some important criteria for this part of the project -
1. The hitch must be very discrete and the part that does show must look good.
2. The hitch must be easily removable and be fitted with 4 easily accessible stainless steel bolts.
3. Whilst it is highly unlikely it will be ever used for towing, it must be strong enough to do so if needed.
4. Its main use would be to attach accessories like bike racks and storage boxes etc.
If there was a need to carry items that might scratch or damage the bed (maybe tools and steel parts for the truck,)
they could be carried in the storage box. Another point to note is that if the spare wheel had been fitted in the
original position as per 1952 spec. there would have been no room to fit a 2-inch receiver. Fitting the spare
wheel closer to the differential created the space for the hitch to be added. The hitch was made with 5mm thick
channel at the ends and 5mm thick steel box sections. The box sections were 40mm by 40mm box. A female 2-inch
receiver was reduced in length and welded across the two box sections. The completed unit was etch primed,
primed and then three coats of gloss black applied. To maintain the discrete appearance, the receiver was
set well back from the rear bumper In use a short extension will be used to extend the receiver backwards
beyond the rear bumper. A receiver blanking plug was finally fitted.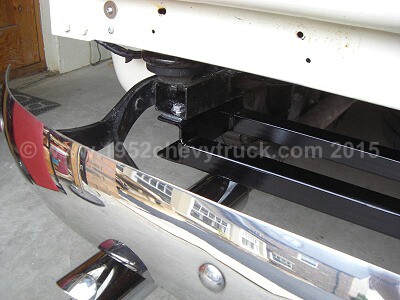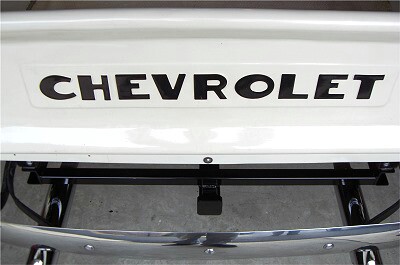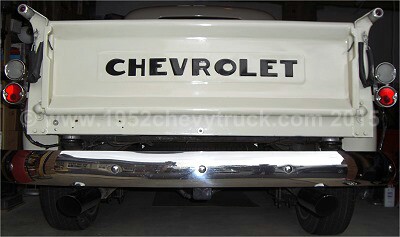 Update 2020.
Nothing on the truck from these 2007 modifications has needed to be changed, everything
has been great with no problems. Also note the bolt-on frame for the 2" receiver fitted to the rear of the
chassis frame considerable strengthens this part of the frame.
Click on the banner below to see our new web site.
It is about a new hard tonneau cover (bed lid) for the 1947-53 Chevy truck.
Model - "Zero Impact Ultimate 3100" Tonneau cover. Fit without drill holes in your truck.
You can read about it and you can
order it
. It is available
now
.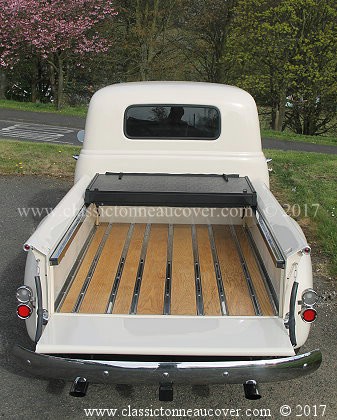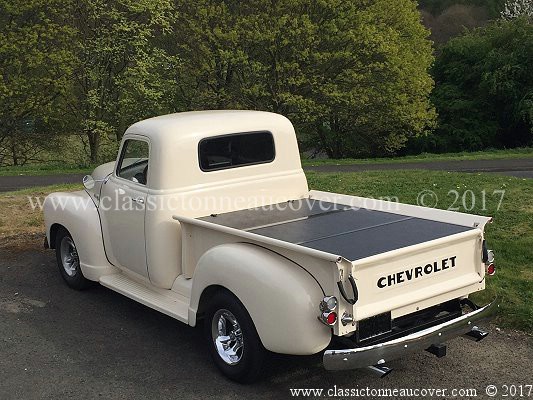 Click on the banner above.
• A hard tonneau cover. Completely rigid, solid and strong. Folding.
• Zero impact. It can be fitted without drilling any holes in the truck. All paint work protected.
• Does not detract from the appearance of the truck. Enhances the appearance of the truck.
• With the cover removed and just the hardware kit showing it still looks "show quality".
• When the cover is fitted but open it still looks excellent and does not detract in any way from the appearance of the truck.
• The cover can be removed in under five minutes.
• All materials and finishes are of the highest quality.
• There is a choice of hardware support finishes to suit painted or patina trucks.
• A water drainage system is included to prevent water from leaking into the bed.
• Better than original factory quality. Just look at the pictures above.
• The model shown is supported by a mirror polished stainless steel installation kit.
• This tonneau cover is for the - 1947, 1948, 1949, 1950, 1951, 1952, 1953 Chevy truck. Advanced design stepside 3100.

Link to our own museum site
Rewind Museum. A Museum of vintage consumer electronics.
See
www.rewindmuseum.com/vintagesatellite.htm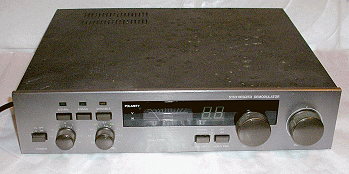 For old Satellite receivers with knobs on!
(and other historic items) - and
Vintage reel to reel video recorders. Vintage VHS
and Betamax VCRs. Vintage video cameras. Vintage
Laser Disc. Vintage Computers. Old telephones,
Old brick mobile phones. Vintage Hi Fi, Old reel
to reel audio and early audio cassette decks.
Including, the history time line of vintage
consumer electronics ... and much more .....
So see,
www.rewindmuseum.com/home.htm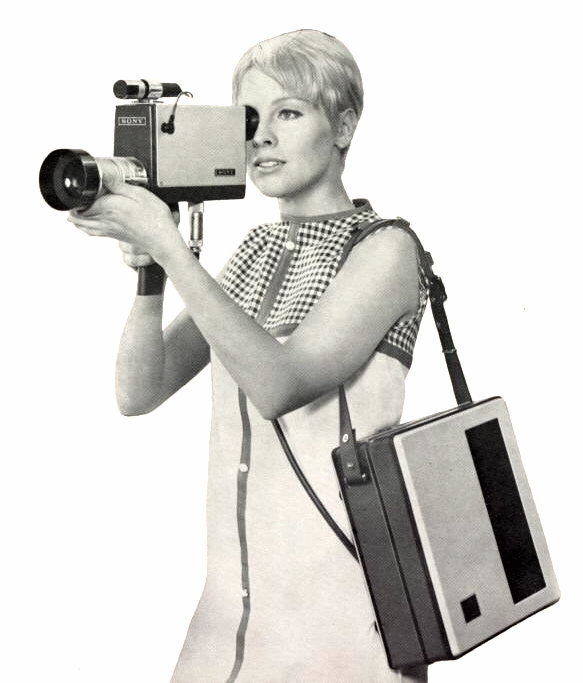 It is well worth a visit.
Only The
Satellite Superstore
brings you
great products, advice and it's own museum


A Useful Search Engine.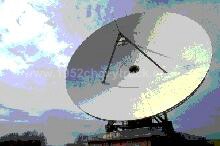 Google.
An excellent very comprehensive search engine. Find everything.
Probably the biggest search engine in the world.
www.google.com

Link to our main site. Satellite TV.
Sponsored by Vision International.
Note. One of our businesses, Vision International (established 1991) sponsors the
1952 Chevy truck site including financial support for this web site.
Vision International is one of a group of businesses that we have in the field of
Satellite TV. This is a link to our sponsor.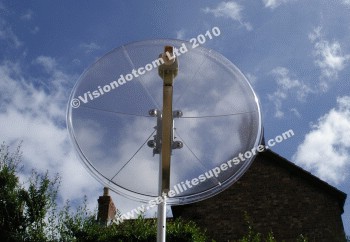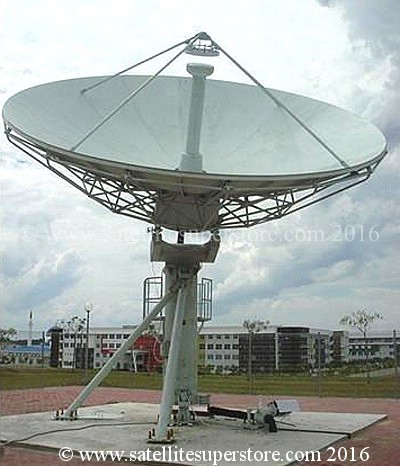 Tune in an extra 10,000 channels? No you don't need a large dish but we do sell
big dishes as well. Watch the world? Links to some of the pages are below,
Satellite dishes
Transparent Dishes
Motorised dishes
LNBs
Satellite Receivers
Mobile / caravan satellite
Multiswitches
Satellite finder meters
All satellite products.
This 1952 Chevy truck web site is maintained on a non-profit
making voluntary basis. Our main business website is at
www.satellitesuperstore.com/cat.htm
Our main business is satellite TV and we are a specialist
satellite company. We supply satellite goods in the UK
and worldwide including fixed and motorised satellite
systems, accessories, and installation equipment.

Web site copyright © 2021 Vision International. All rights reserved.
For all questions & comments about this site's content, contact - Dave
using our
email address -
(We only accept questions in English.)