Modifying a 1952 Chevy Truck. Original bodywork - modern upgrades.
www.1952ChevyTruck.com

Jan. 2015 - Sept 2015. Original, inherited, temporary, and chosen steering wheels.
Shown below is an original steering wheel in a 1947-53 Chevy truck. (Library picture). The diameter is quite large
at 16" with a 6" dish since trucks did not have power steering. With power steering smaller diameter wheels feel better.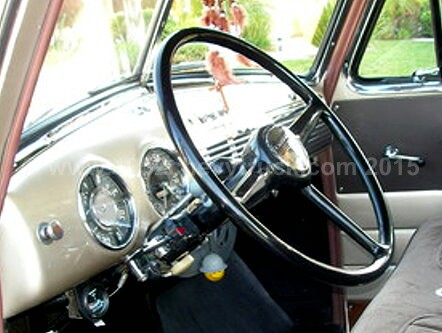 When I purchased the truck in 2007 you can see below the steering wheel already fitted. The truck came with a pre- owned
1980s steering column and a pre-owed 1980s steering wheel. The steering wheel was not very attractive. Also shown
below are the after market gauges which also came with the truck. They were replaced with original gauges.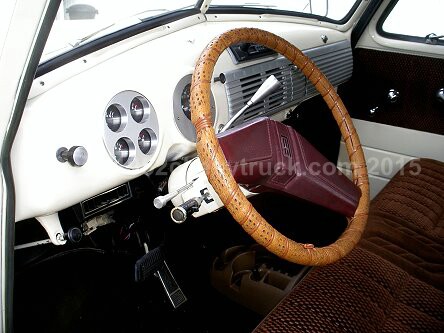 Shown below is a steering wheel which was always meant to be temporary but was purchased for a reason. Purchased
in 2008 was this low cost
Grant 836 Classic Series
12 1/2" black foam steering wheel and
x3196 adapter kit
but
this was always a stop gap measure. At the time a compact wheel was chosen. The 47-53 Chevy truck does not have
much front to back space in the cab and so a wheel with a small dish provided more space. One of the earlier mods on
the truck was to provide more driver leg room by "podding" the firewall. This provided an extra 50mm (2-inches) of leg
room. The cabs on the 47-53 truck are short and so using a large dish steering wheel is not a good idea as drive-ability is
not good if the wheel is too close and the seat will not go back any further. Conscious of this problem, a small dish wheel
was chosen. However, the new 10-way power seats did not take up as much front to back room as expected and so
the need for such a small dish in the steering wheel was not as really necessary.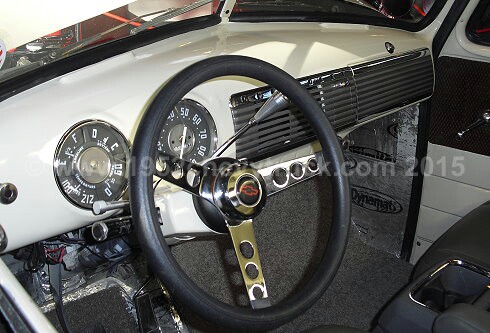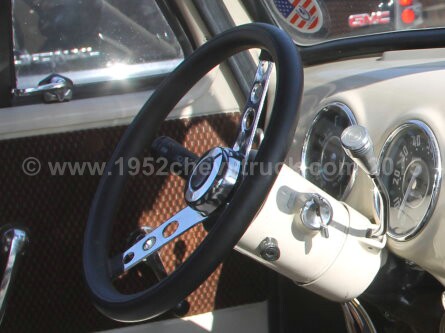 That being the case, more choice became available and a more classic design was possible. The wheel chosen was the
Grant Signature Series 15212. Sprint 3 Model
(Mahogany) 14 3/4". In January 2015 this new steering wheel
was fitted to the 1980s column (which came with the truck). The same
x3196 adapter kit
(used with the
"856 Classic" steering wheel above) was also fitted with a
Grant 4003 2" wheel extension kit
. See below.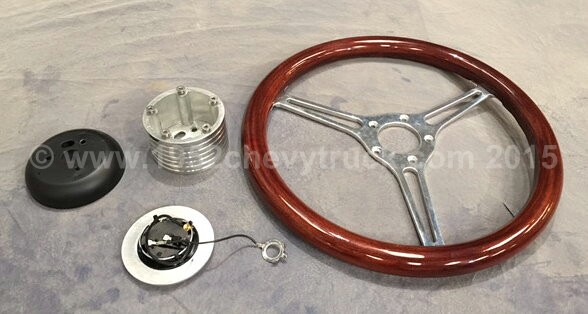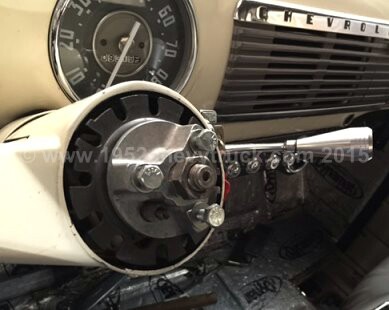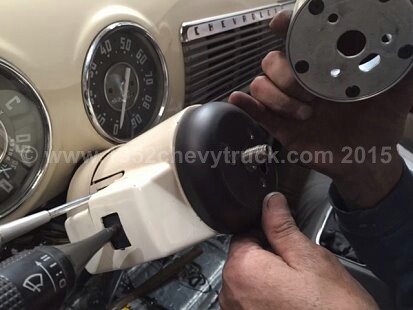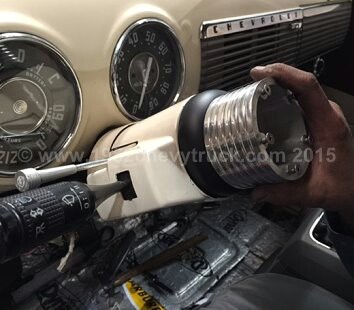 In Sept 2015 a new steering column was fitted. The existing Grant adapter kit was not ideal for the new Ididit column
and a new adapter was ordered from
JEGS
. The new Iditit column used a spline (see below) for the
steering wheel attachment and the correct adapters which push onto the spline and fit to the steering wheel are
Grant spline adapter kit 3162
and
Grant billet spacer 51961
(this is a shorter spacer).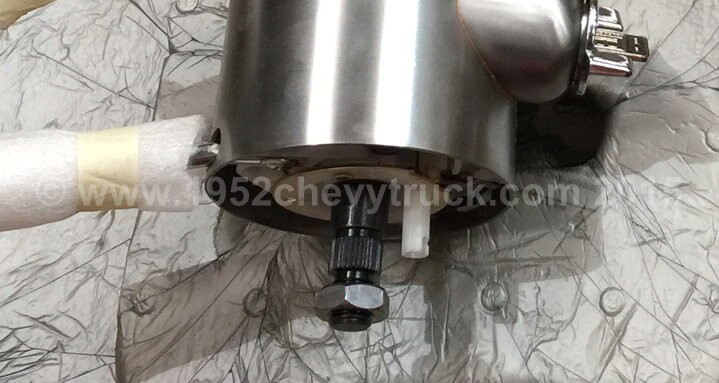 The shorter billet spacer and the fact the black plastic cover in the installation kit was not needed reduced the length of the
steering wheel adapters by at least an inch. This was useful as the Iditit mechanisms at end of the column are a little
longer than the old 80s column mechanisms which it replaced. The new adapters also looked much better. Sitting in the
seat, both the leg room and distance to the wheel was perfect. This new wheel is shown below while it is being
test fitted. The column will be removed for painting and then re-fitting.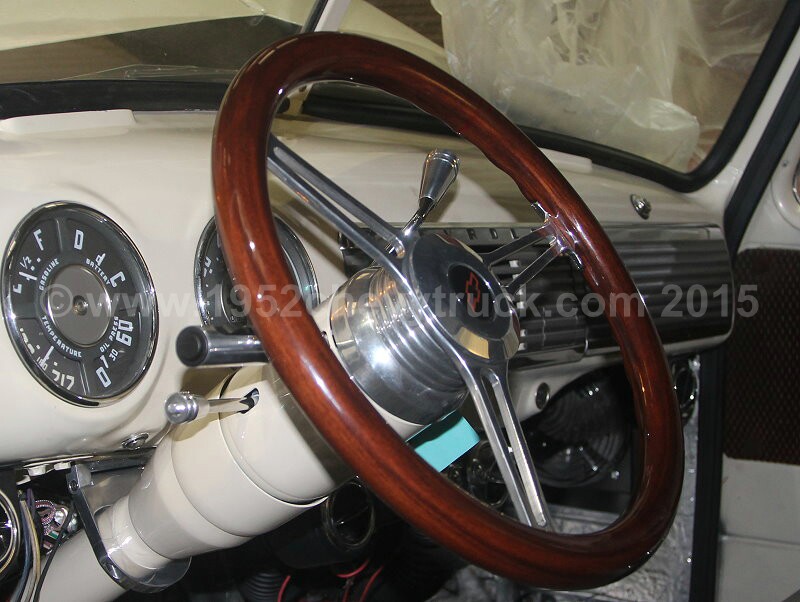 Clearly the new steering wheel does not resemble and original 1947-53 steering wheel at the top of the page.
It is smaller, it is not black, however, it is a classic design, it has a real feel of quality and it looks great.
Update - 2015
Due to the indicator lever being close to the steering wheel, fingers were
catching it while turning and so the longer billet spacer was re-instated.
Update 2017
In 2016 a couple of LEDs were built into the heater / air con controls including small sounders.
This provides a visual and audio notification when the indicators are used.
The sounders came from Maplin Electronics. A series resistor was used to reduce the level until it was the correct volume.
Click on the banner below to see our new web site.
It is about a new hard tonneau cover (bed lid) for the 1947-53 Chevy truck.
Model - "Zero Impact Ultimate 3100" Tonneau cover. Fit without drill holes in your truck.
You can read about it and you can
order it
. It is available
now
.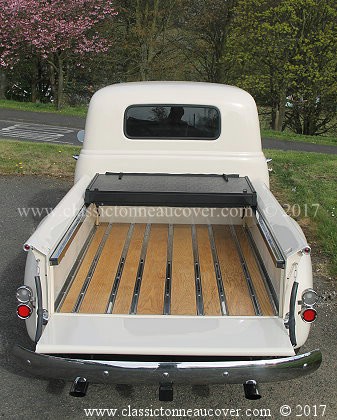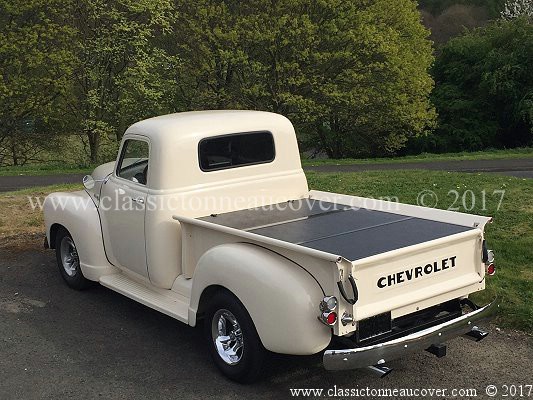 Click on the banner above.
• A hard tonneau cover. Completely rigid, solid and strong. Folding.
• Zero impact. It can be fitted without drilling any holes in the truck. All paint work protected.
• Does not detract from the appearance of the truck. Enhances the appearance of the truck.
• With the cover removed and just the hardware kit showing it still looks "show quality".
• When the cover is fitted but open it still looks excellent and does not detract in any way from the appearance of the truck.
• The cover can be removed in under five minutes.
• All materials and finishes are of the highest quality.
• There is a choice of hardware support finishes to suit painted or patina trucks.
• A water drainage system is included to prevent water from leaking into the bed.
• Better than original factory quality. Just look at the pictures above.
• The model shown is supported by a mirror polished stainless steel installation kit.
• This tonneau cover is for the - 1947, 1948, 1949, 1950, 1951, 1952, 1953 Chevy truck. Advanced design stepside 3100.

Link to our own museum site
Rewind Museum. A Museum of vintage consumer electronics.
See
www.rewindmuseum.com/vintagesatellite.htm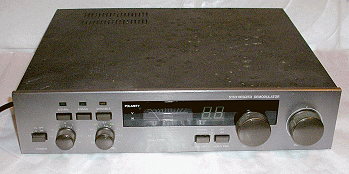 For old Satellite receivers with knobs on!
(and other historic items) - and
Vintage reel to reel video recorders. Vintage VHS
and Betamax VCRs. Vintage video cameras. Vintage
Laser Disc. Vintage Computers. Old telephones,
Old brick mobile phones. Vintage Hi Fi, Old reel
to reel audio and early audio cassette decks.
Including, the history time line of vintage
consumer electronics ... and much more .....
So see,
www.rewindmuseum.com/home.htm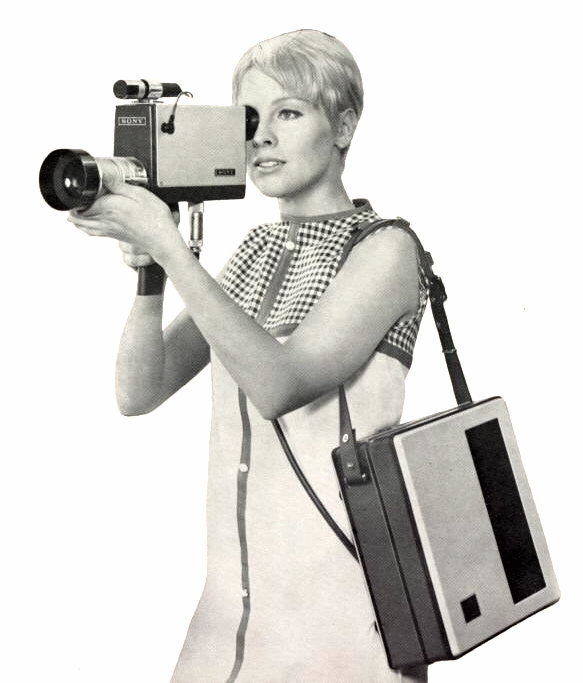 It is well worth a visit.
Only The
Satellite Superstore
brings you
great products, advice and it's own museum


A Useful Search Engine.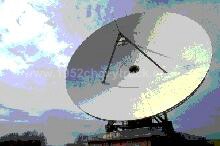 Google.
An excellent very comprehensive search engine. Find everything.
Probably the biggest search engine in the world.
www.google.com

Link to our main site. Satellite TV.
Sponsored by Vision International.
Note. One of our businesses, Vision International (established 1991) sponsors the
1952 Chevy truck site including financial support for this web site.
Vision International is one of a group of businesses that we have in the field of
Satellite TV. This is a link to our sponsor.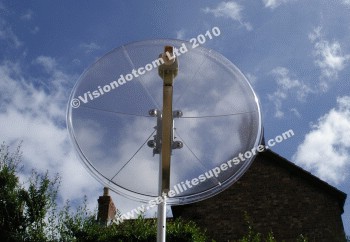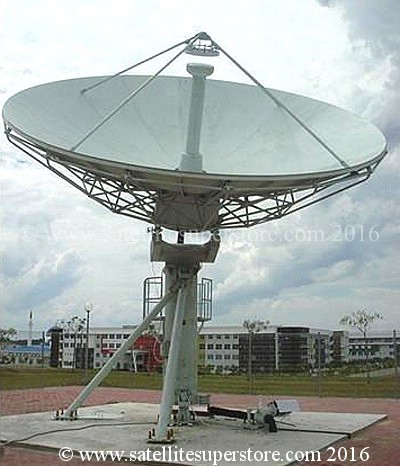 Tune in an extra 10,000 channels? No you don't need a large dish but we do sell
big dishes as well. Watch the world? Links to some of the pages are below,
Satellite dishes
Transparent Dishes
Motorised dishes
LNBs
Satellite Receivers
Mobile / caravan satellite
Multiswitches
Satellite finder meters
All satellite products.
This 1952 Chevy truck web site is maintained on a non-profit
making voluntary basis. Our main business website is at
www.satellitesuperstore.com/cat.htm
Our main business is satellite TV and we are a specialist
satellite company. We supply satellite goods in the UK
and worldwide including fixed and motorised satellite
systems, accessories, and installation equipment.

Web site copyright © 2021 Vision International. All rights reserved.
For all questions & comments about this site's content, contact - Dave
using our
email address -
(We only accept questions in English.)