Modifying a 1952 Chevy Truck. Original bodywork - modern upgrades.
www.1952ChevyTruck.com

2011-2015. Restoring the front grill.
A new original front grill -
In March 2011 I received an email through the contact form on this web site. It was from a specialist chrome plating company.
They told me they had been given a front grill and had restored and re-chromed it using a thorough heavy chroming process.
The problem was, their customer did not have the funds to pay for it and so they were selling it. The grill on the 52 truck
was not in the best condition. It was certainly very presentable but the lower rail in particular was pitted and to some extent
the second from the bottom was as well. The pictures below show the truck in the sun and the bars look good but closer
inspection shows the pitting. If they are not cleaned regularly the pitting becomes rusty.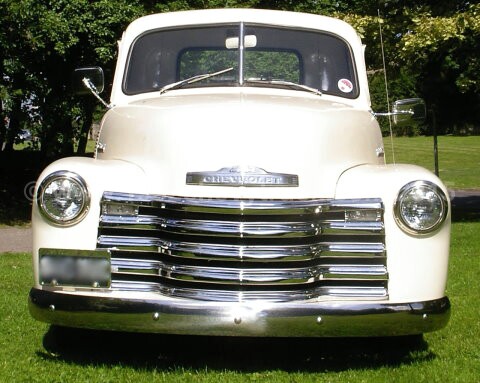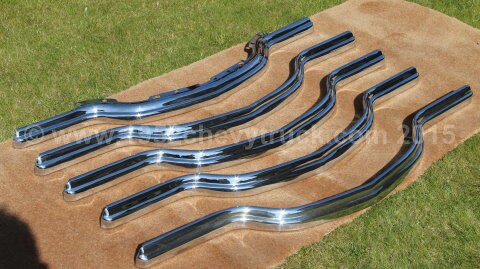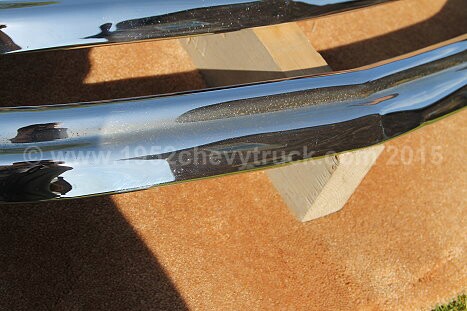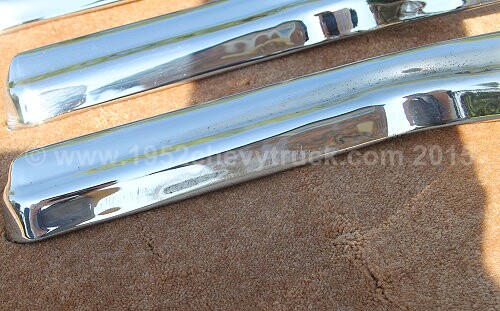 We agreed on a deal and they sent the bars to me (see them below). I suppose it was a bit of a risk at the time, buying unseen, but
the quality of the grill bars (no dings) and the chrome work was outstanding. A very worth while purchase. The bars did, however,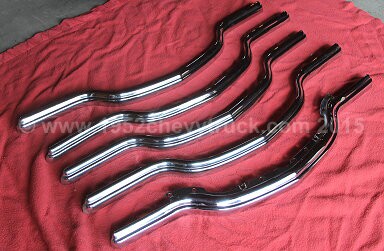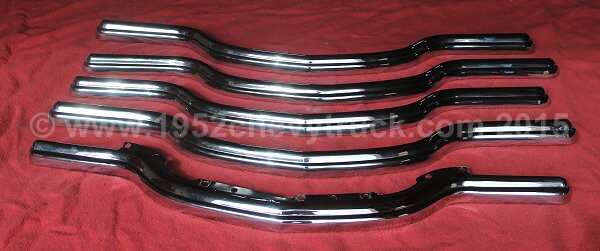 arrive as just grill bars with no backing frame and so it was necessary to remove the grill on the truck, strip it down and
fit the new bars on the existing frame. After taking the bars off the truck's grill frame it was noticed the newly chromed bars
were not going to fit the truck's grill frame. They were different! It became clear that the truck, when purchased in the States
had at some point been fitted with an aftermarket copy grill. The frame was different and the restored grill bars would not fit.
The restored bars were original 1952 Chevy and they were going to need an original GM / Chevy frame before they could be
fitted. At this point the project was literally shelved and the bars were stored in the garage until a frame could be found.
In 2014 I noticed (while looking online) that
Jim Carter
truck parts also had a wide range of second hand parts in their
inventory. In fact when you look at their site it looks like they have their own salvage yard. I rang them and asked if
they had an original 52 Chevy grill and it did not matter what condition the bars were in. They said they had one and it
was only $50.00 It was sent to my shipping agent on Pomona (with other items like the new
transmission
) and
shipped to the UK. It arrived in the UK mid 2014 and was stripped down. I did find a buyer for the old bars!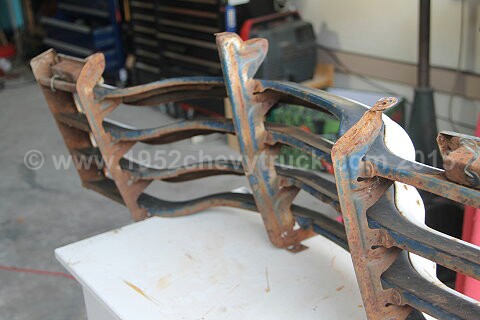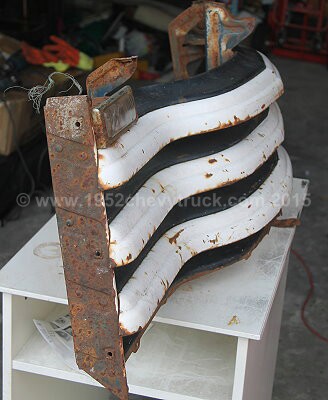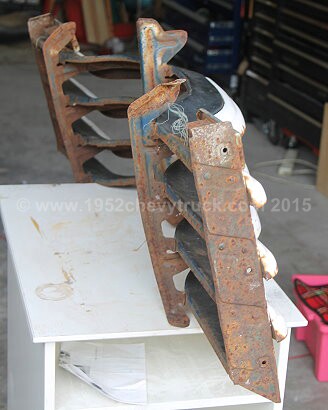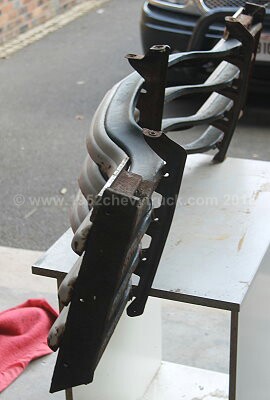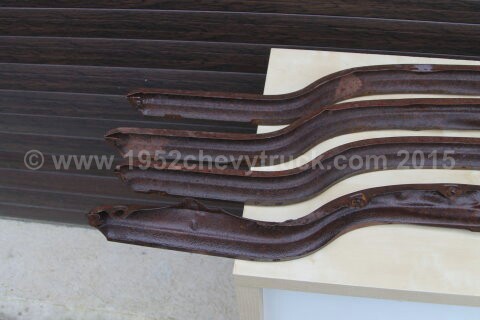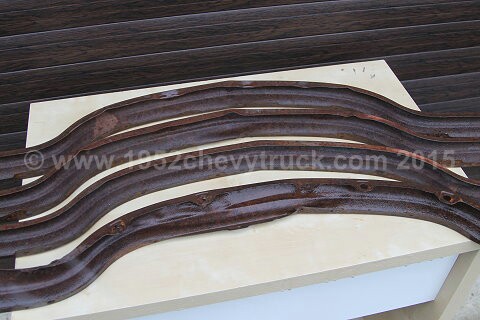 The frame parts were all disassembled. Since GM riveted everything together, every rivet had to be drilled out. It was then sent
for media blasting. Some parts needed lead soldering, they were then acid etch (wash) primed, then sprayed with normal primer.
Finally they were painted gloss black. Re assembly was done with stainless steel nuts and bolts.
The new grill was fitted in 2016 and looks great.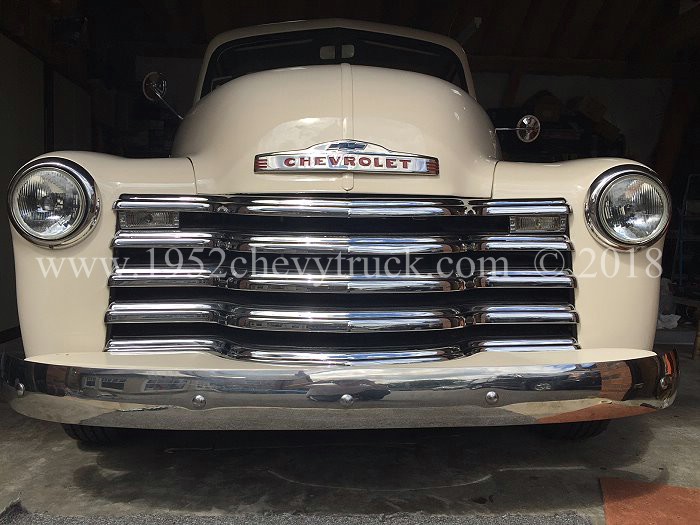 Click on the banner below to see our new web site.
It is about a new hard tonneau cover (bed lid) for the 1947-53 Chevy truck.
Model - "Zero Impact Ultimate 3100" Tonneau cover. Fit without drill holes in your truck.
You can read about it and you can
order it
. It is available
now
.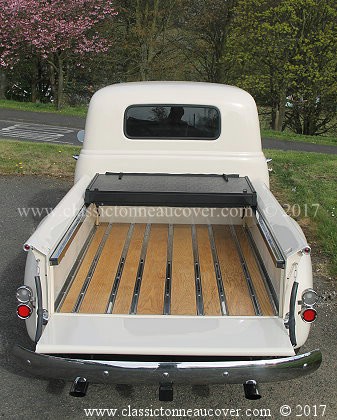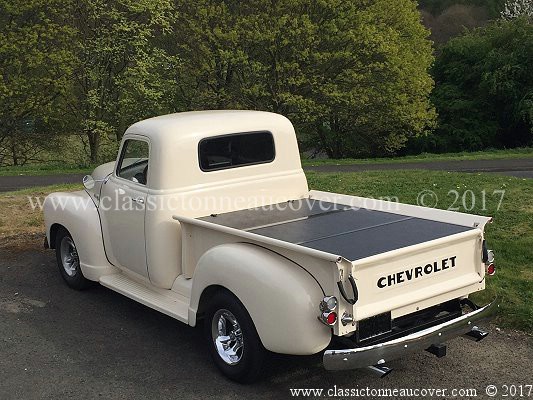 Click on the banner above.
• A hard tonneau cover. Completely rigid, solid and strong. Folding.
• Zero impact. It can be fitted without drilling any holes in the truck. All paint work protected.
• Does not detract from the appearance of the truck. Enhances the appearance of the truck.
• With the cover removed and just the hardware kit showing it still looks "show quality".
• When the cover is fitted but open it still looks excellent and does not detract in any way from the appearance of the truck.
• The cover can be removed in under five minutes.
• All materials and finishes are of the highest quality.
• There is a choice of hardware support finishes to suit painted or patina trucks.
• A water drainage system is included to prevent water from leaking into the bed.
• Better than original factory quality. Just look at the pictures above.
• The model shown is supported by a mirror polished stainless steel installation kit.
• This tonneau cover is for the - 1947, 1948, 1949, 1950, 1951, 1952, 1953 Chevy truck. Advanced design stepside 3100.

Link to our own museum site
Rewind Museum. A Museum of vintage consumer electronics.
See
www.rewindmuseum.com/vintagesatellite.htm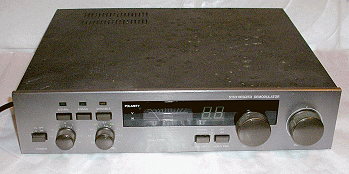 For old Satellite receivers with knobs on!
(and other historic items) - and
Vintage reel to reel video recorders. Vintage VHS
and Betamax VCRs. Vintage video cameras. Vintage
Laser Disc. Vintage Computers. Old telephones,
Old brick mobile phones. Vintage Hi Fi, Old reel
to reel audio and early audio cassette decks.
Including, the history time line of vintage
consumer electronics ... and much more .....
So see,
www.rewindmuseum.com/home.htm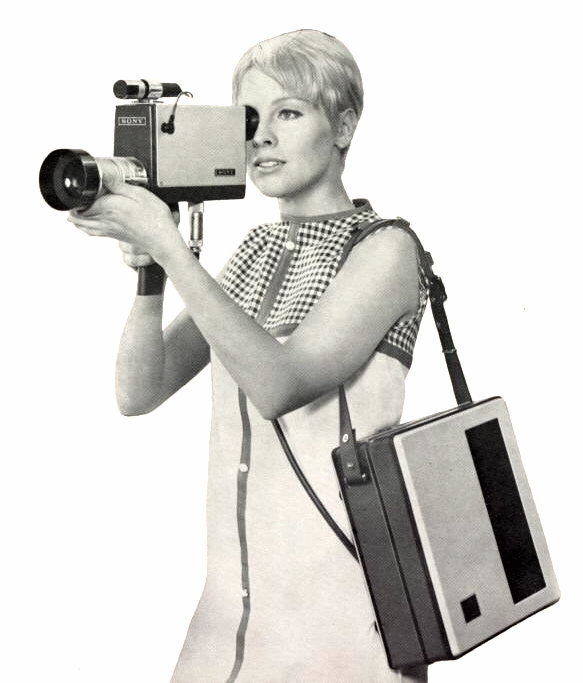 It is well worth a visit.
Only The
Satellite Superstore
brings you
great products, advice and it's own museum


A Useful Search Engine.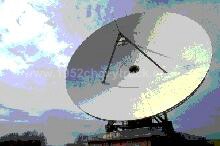 Google.
An excellent very comprehensive search engine. Find everything.
Probably the biggest search engine in the world.
www.google.com

Link to our main site. Satellite TV.
Sponsored by Vision International.
Note. One of our businesses, Vision International (established 1991) sponsors the
1952 Chevy truck site including financial support for this web site.
Vision International is one of a group of businesses that we have in the field of
Satellite TV. This is a link to our sponsor.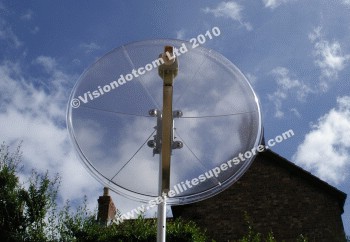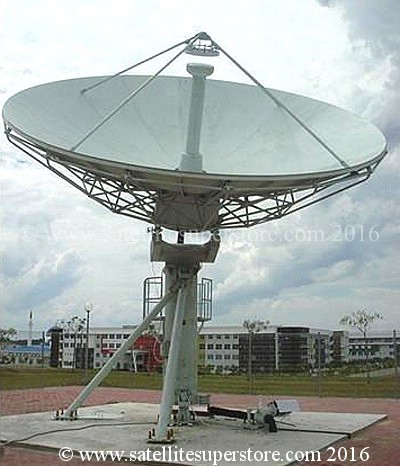 Tune in an extra 10,000 channels? No you don't need a large dish but we do sell
big dishes as well. Watch the world? Links to some of the pages are below,
Satellite dishes
Transparent Dishes
Motorised dishes
LNBs
Satellite Receivers
Mobile / caravan satellite
Multiswitches
Satellite finder meters
All satellite products.
This 1952 Chevy truck web site is maintained on a non-profit
making voluntary basis. Our main business website is at
www.satellitesuperstore.com/cat.htm
Our main business is satellite TV and we are a specialist
satellite company. We supply satellite goods in the UK
and worldwide including fixed and motorised satellite
systems, accessories, and installation equipment.

Web site copyright © 2021 Vision International. All rights reserved.
For all questions & comments about this site's content, contact - Dave
using our
email address -
(We only accept questions in English.)