Modifying a 1952 Chevy Truck. Original bodywork - modern upgrades.
www.1952ChevyTruck.com

Truck History. 1998-2007 and buying the truck in the USA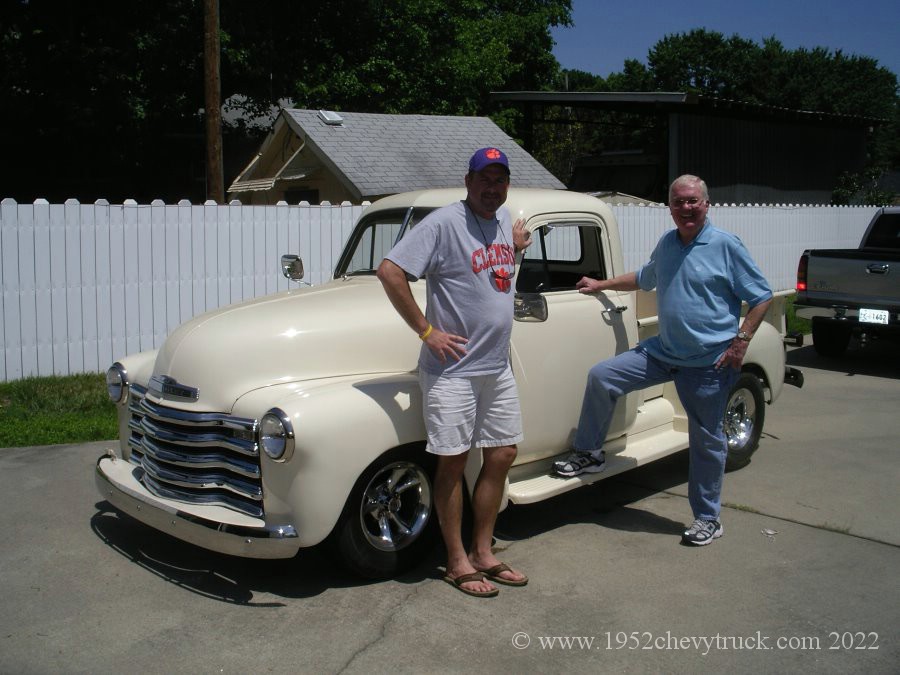 Original owner (right above) and his friend (left above) above and myself below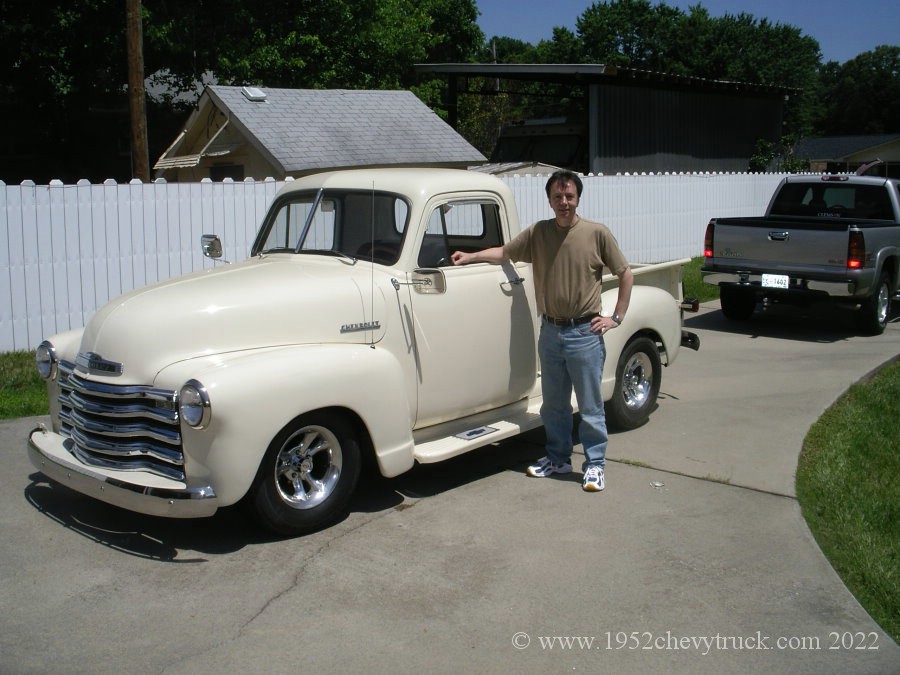 Little is known about the truck before 1998 but in that year it was owned by Terry Cauldwell in Greenville
South Carolina. The only information he had was the fact that the engine and transmission had been
changed to a 1972 Chevrolet Gen 1 small block V8 with turbo 350 transmission about 15 years earlier.
Terry bought the truck and did some restoration work in that year. Significant funds were spent on many
new and reconditioned parts but the workmanship of the people he employed was not very high.
It was in 1998 when the front suspension was upgraded to the Mustang 2 IFS, the rear suspension
comprises of a 1992 Chevy Caprice axle and original truck leaf springs, the interior was re-upholstered
and the whole truck was painted. In June 2007 it was purchased by the current owner, David Craig, who
saw it on e-bay, flew to South Carolina and shipped it to the UK. It was transported to Baltimore
docks and then shipped to Liverpool and driven home. It was registered in Newcastle Upon Tyne.
Since then many new parts and much work has been done.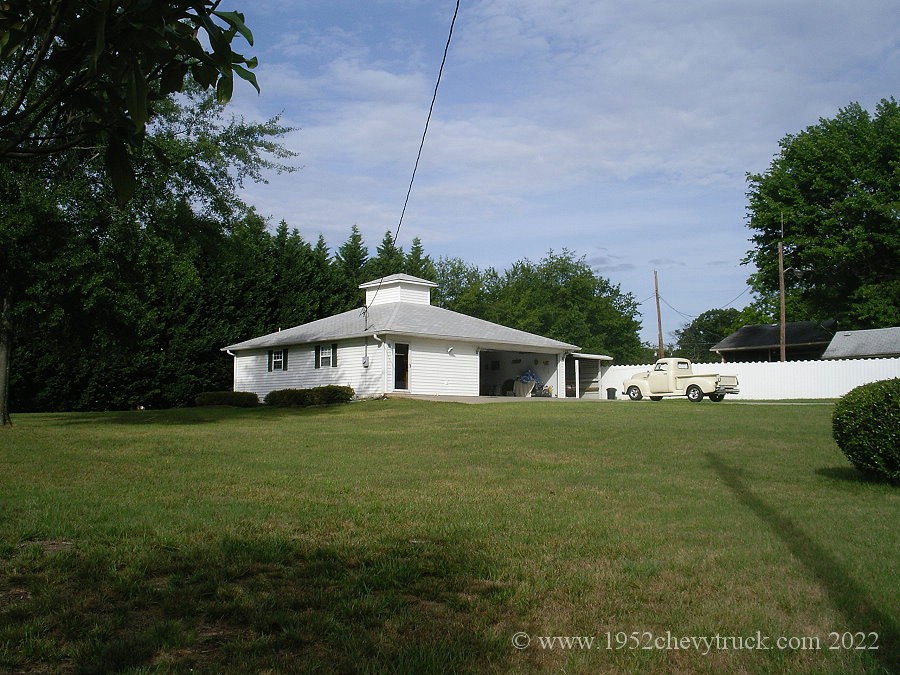 The truck's home in the USA. A "garage apartment".
Better than a shed at the bottom of the garden?
There are garage apartments all over the USA. Typically it takes 4 full sized cars. There is room to store two
twenty foot long cars end to end and also two cars wide through the automatic doors. There is a sitting area,
storage area, kitchen and bathroom all on the ground floor and a basement underneath. The one in the picture
had the 52 Chevy truck inside and one other classic car. These apartments may be on the same piece of land
where the main house and double garage is and then provide overflow accommodation for vehicles and guests.
Or, they may be just for a person who wants to live with his or her cars.
In the pictures below you can see the truck parked outside the day before shipping it.
Outside of the garage appartment.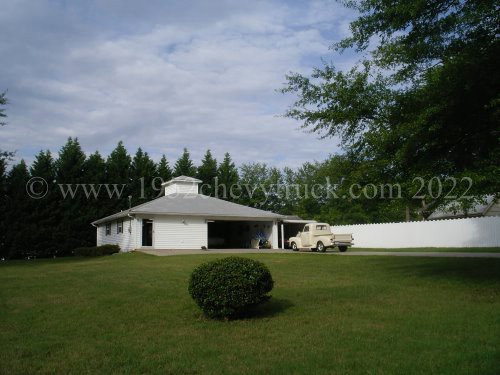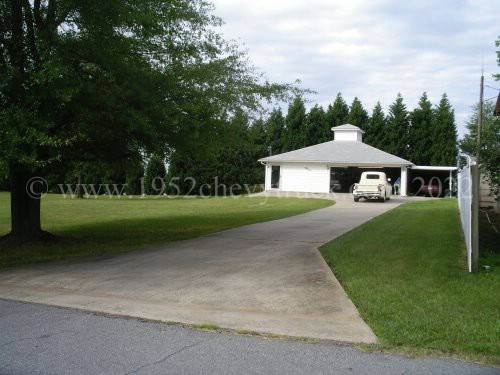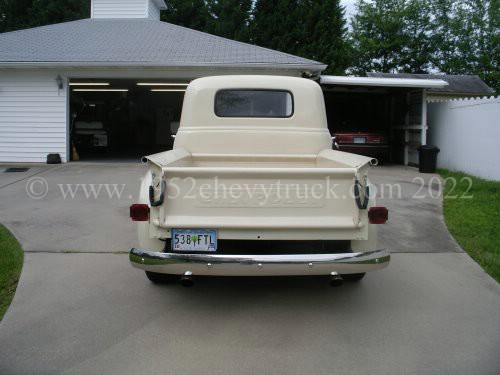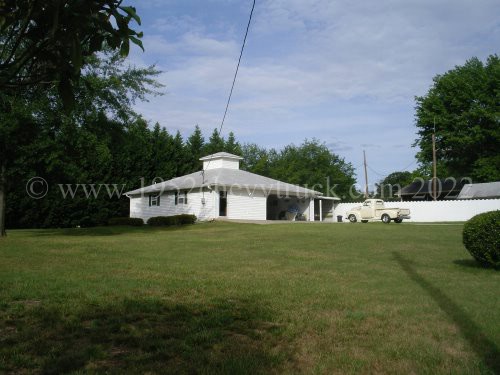 Exterior pictures below.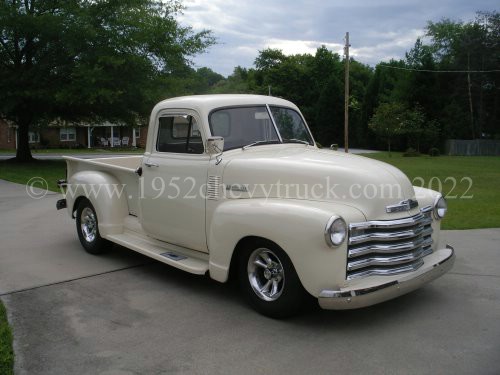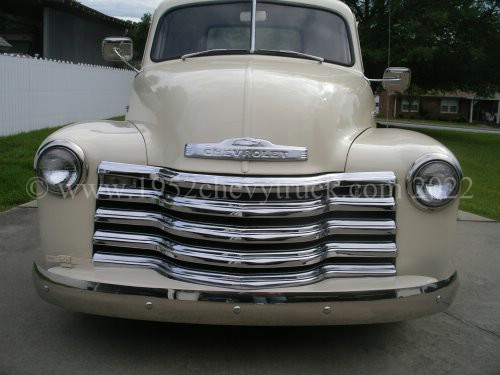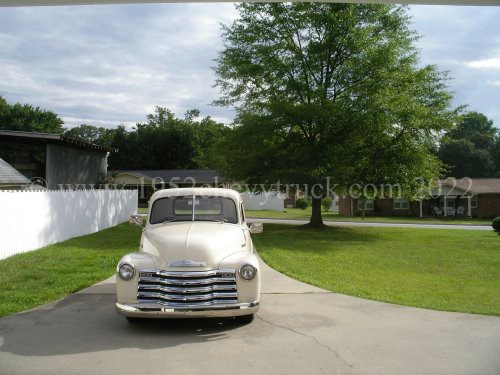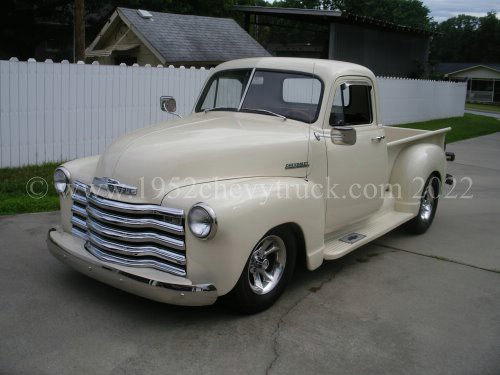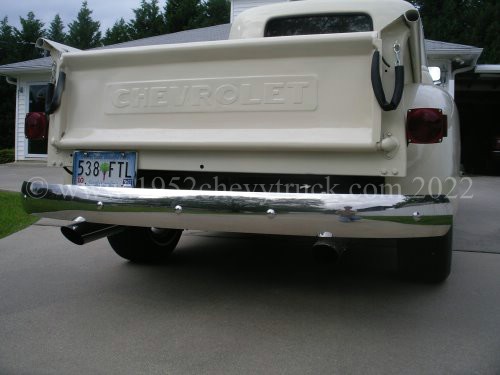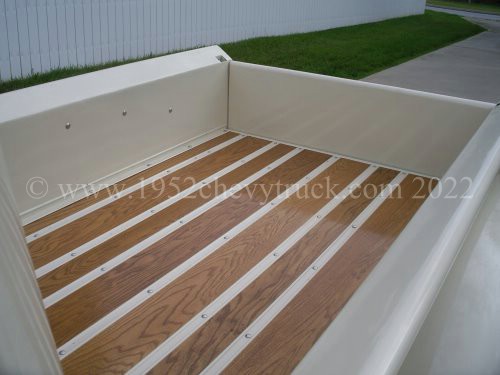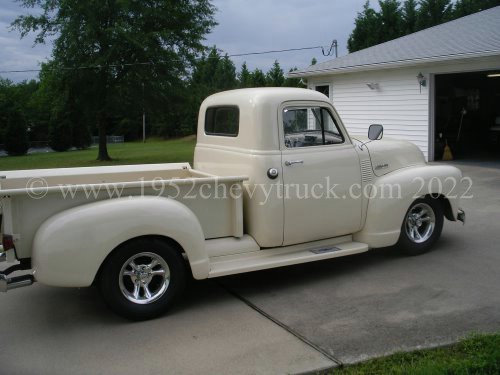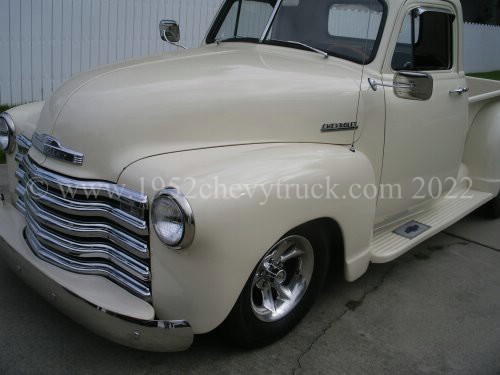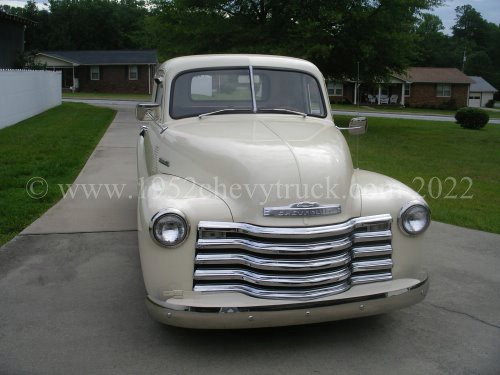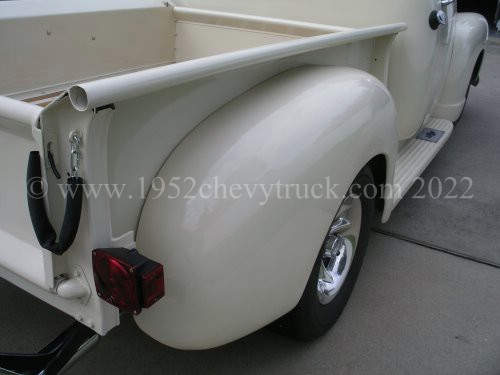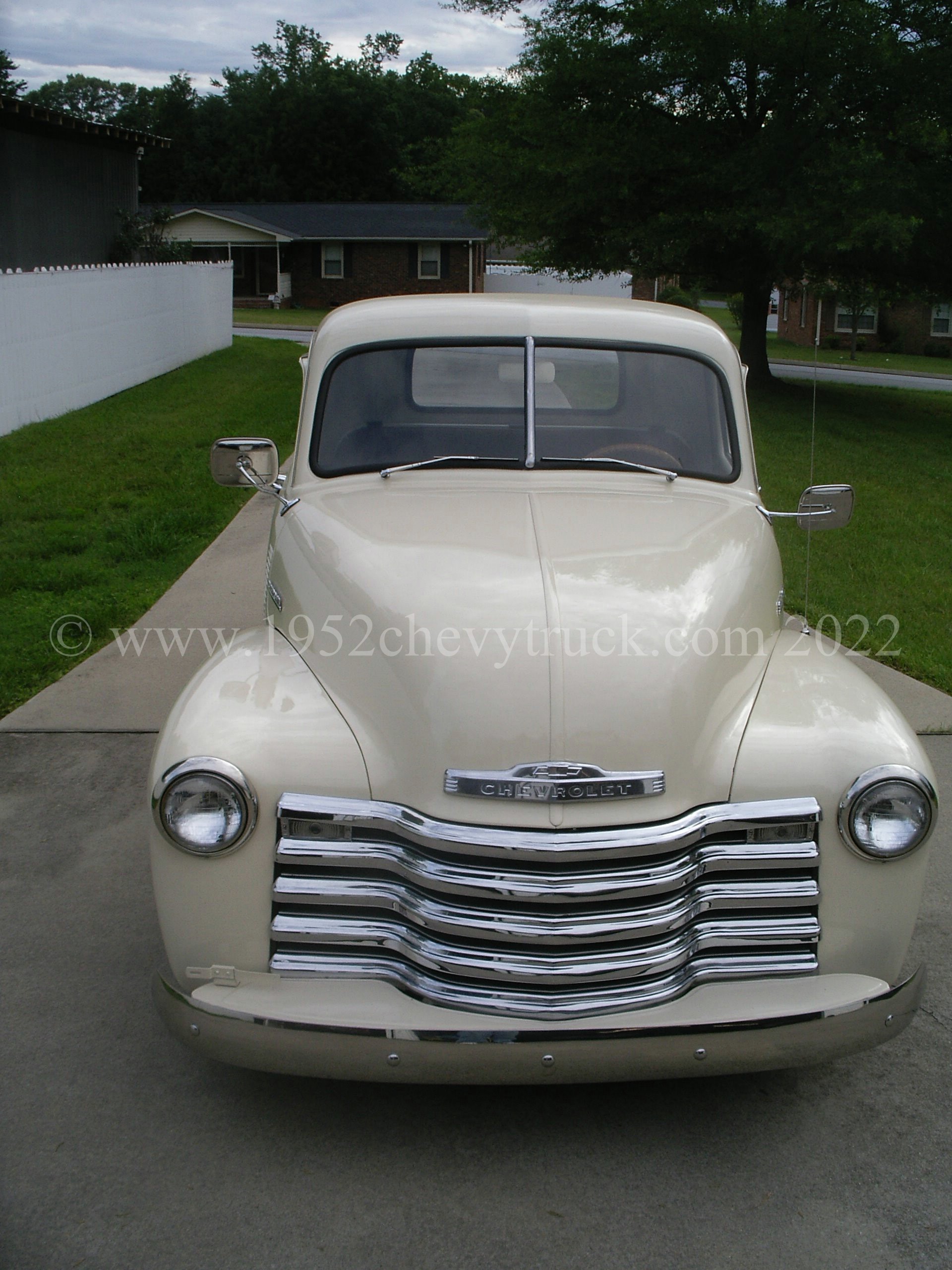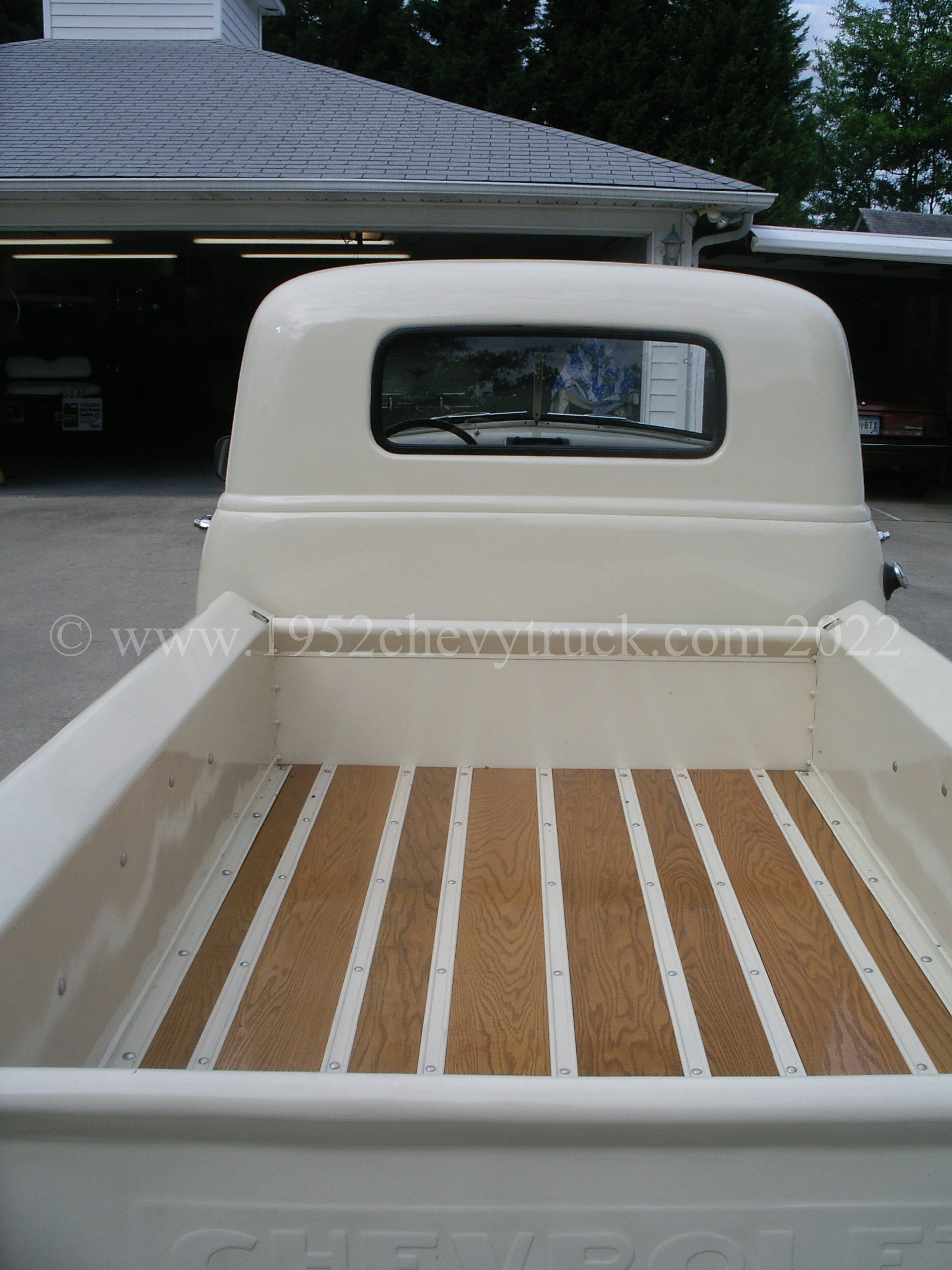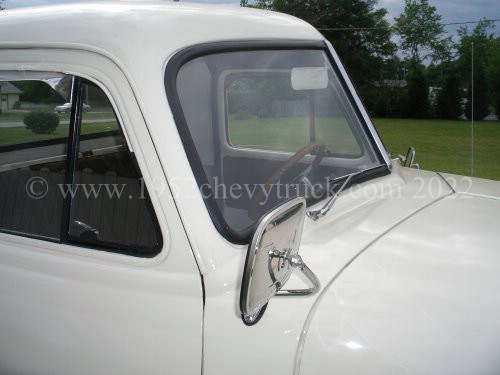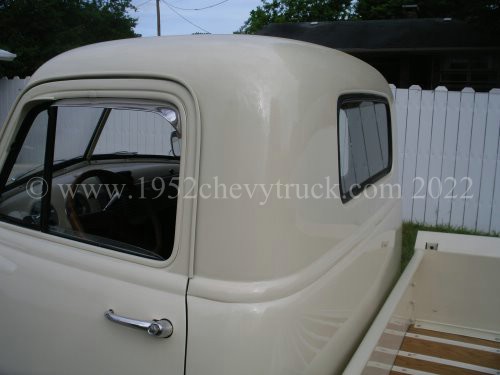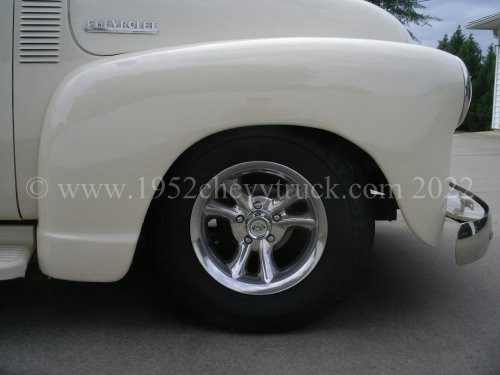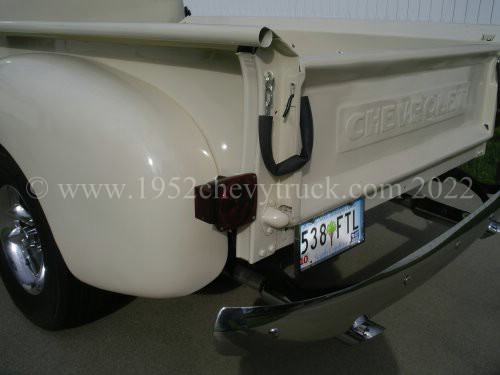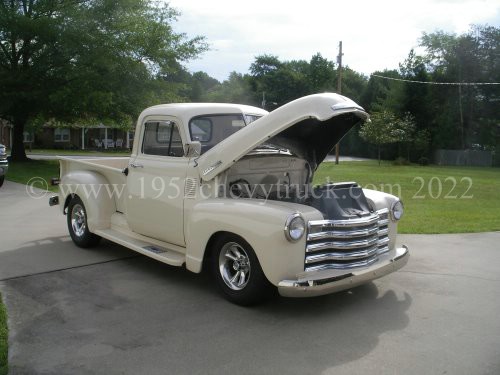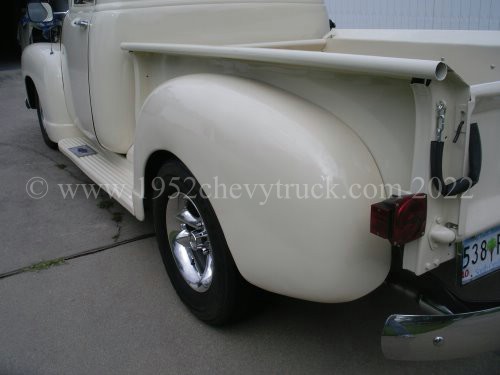 Interior pictures below.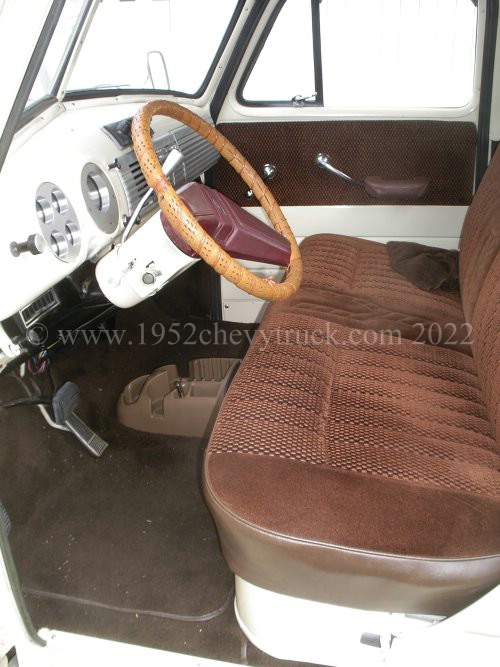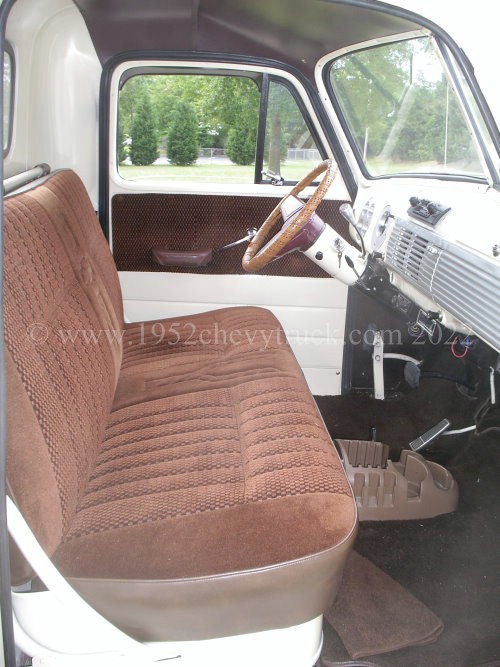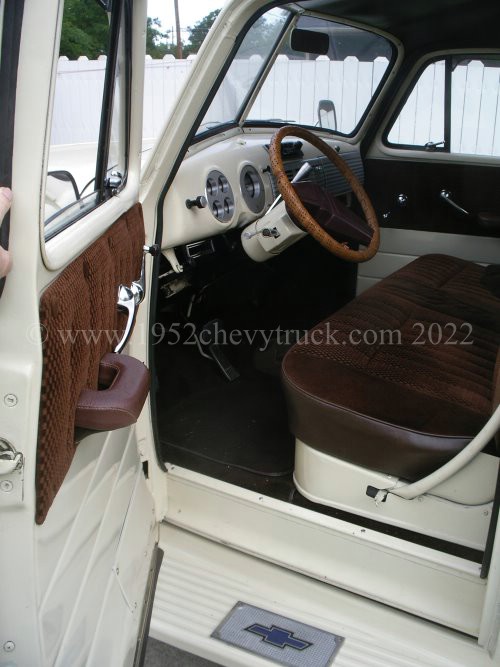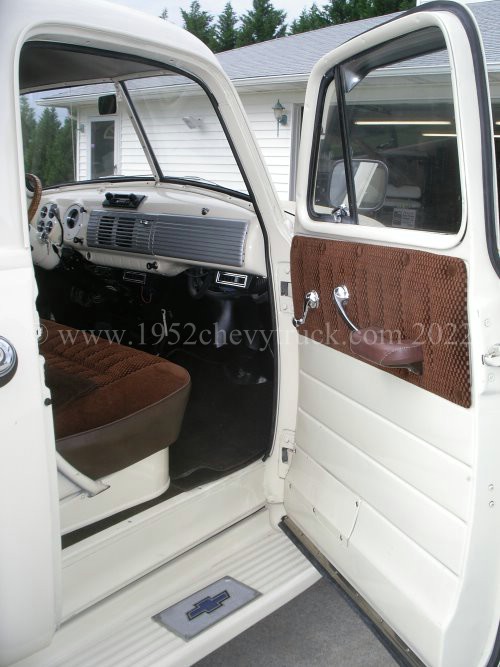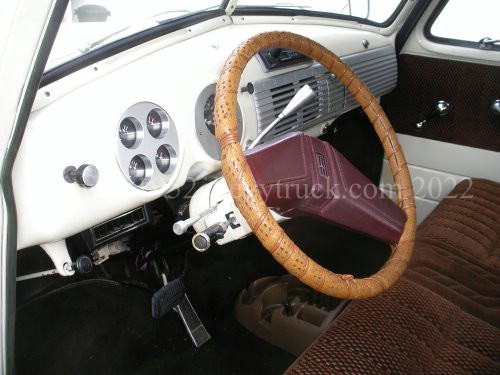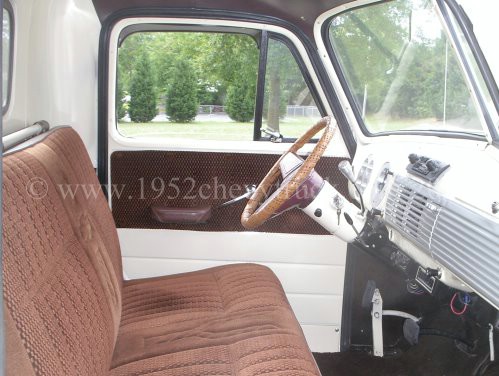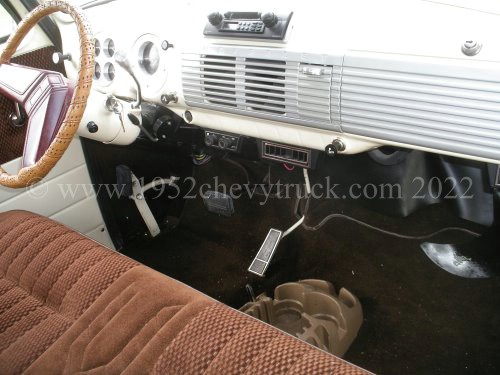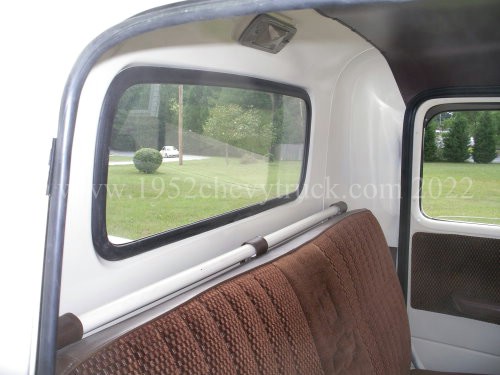 Loading the truck onto a transporter to take it to the docks.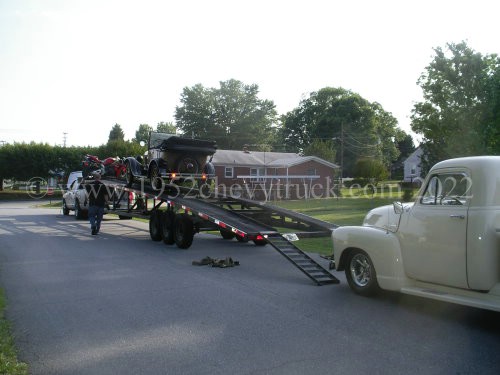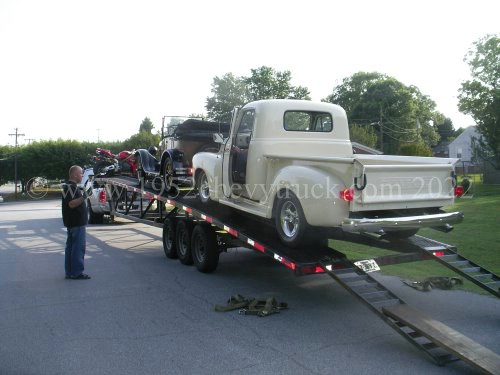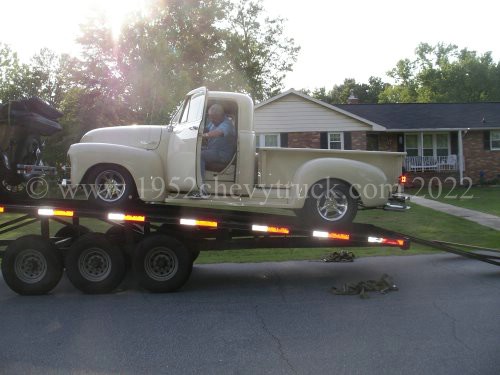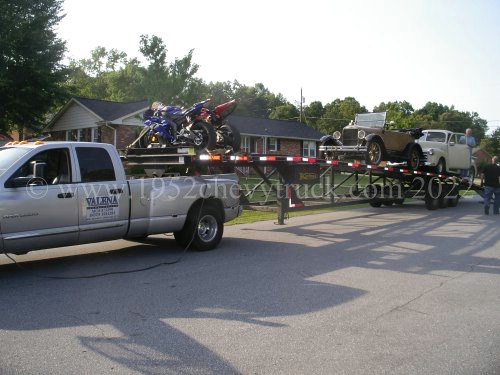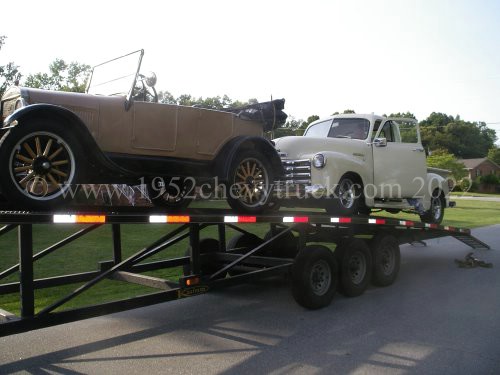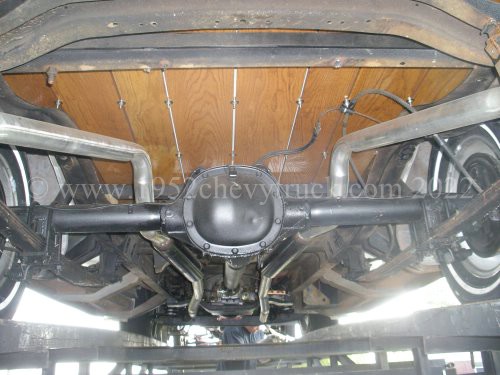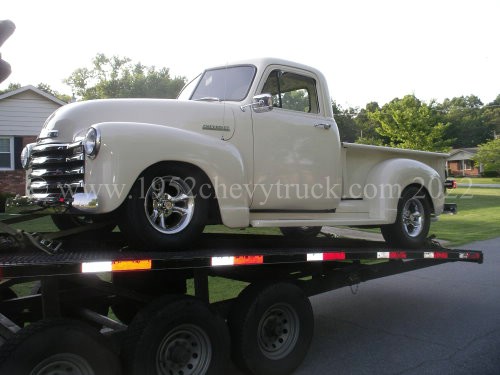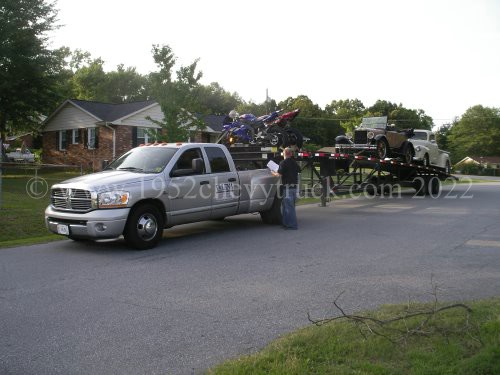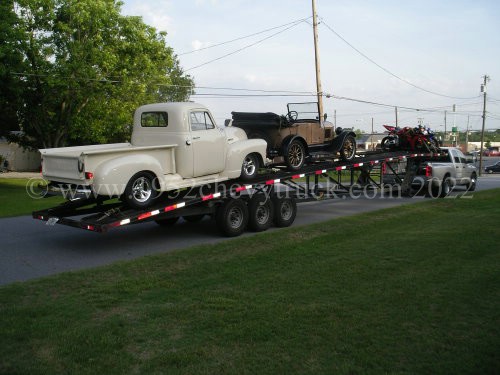 The transporter takes it to the docks.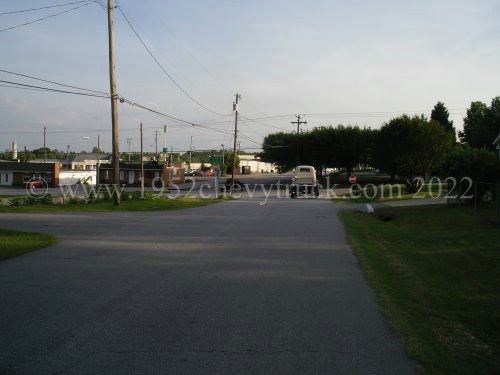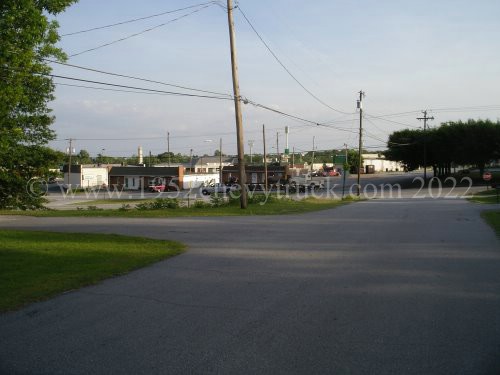 All of the pictures above were taken before the truck left the USA in June 07.
Plans for the cab upgrades.
The original cab seats were re-upholstered when the truck was restored in 1998 and they are still in perfect
condition. (between 1998 and 2007 the truck had only done about 1000 miles) but these bench seats (like many
old vehicles) are not very comfortable. In the driving position you tend to slide towards the door. Modern
10-way powered front seats (like the ones in my 2005 MC Yukon Denial) will eventually be fitted. A modern radio is
fitted in the dash, and someone has cut the metal to fit it in! This will be taken out and the metal made good in
such a way that it will look like the panel has never been tampered with. Hot Rod type gauges have been fitted.
These will be taken out and original gauges will be re-fitted. The original gauges look great and suit the truck.
They are expensive but very worthwhile. The steering wheel will also be changed.
Some cab upgrades can be seen at -
Cab upgrades in 2008
Structural cab upgrades and new seats can be seen at -
Cab upgrades in 2009
The final work done in the cab was done in 2016 -
Cab upgrades in 2016
2022 update -
work has continued from 2007 right through to 2022. The truck being on the road through
the summer with work going on through the winter. All of the work is detailed on this site in chronological
order. There is a small amount of work still planned for 2022
The current truck has been modernised without affecting its original appearance.
Also see the "
evolution of the engine bay
" from 2007-2021
Click on the banner below to see our new web site.
It is about a new hard tonneau cover (bed lid) for the 1947-53 Chevy truck.
Model - "Zero Impact Ultimate 3100" Tonneau cover. Fit without drill holes in your truck.
You can read about it and you can
order it
. It is available
now
.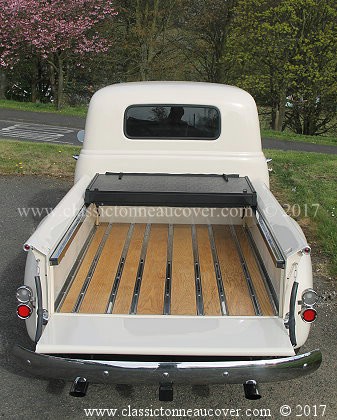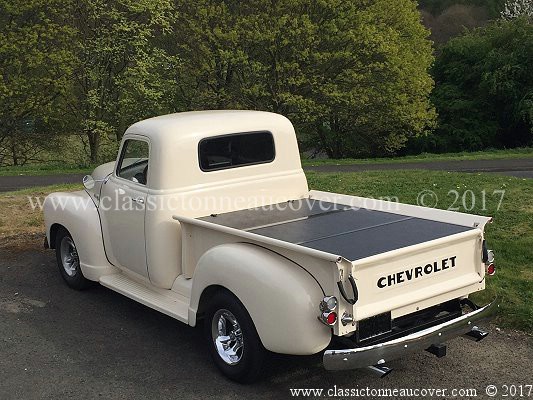 Click on the banner above.
• A hard tonneau cover. Completely rigid, solid and strong. Folding.
• Zero impact. It can be fitted without drilling any holes in the truck. All paint work protected.
• Does not detract from the appearance of the truck. Enhances the appearance of the truck.
• With the cover removed and just the hardware kit showing it still looks "show quality".
• When the cover is fitted but open it still looks excellent and does not detract in any way from the appearance of the truck.
• The cover can be removed in under five minutes.
• All materials and finishes are of the highest quality.
• There is a choice of hardware support finishes to suit painted or patina trucks.
• A water drainage system is included to prevent water from leaking into the bed.
• Better than original factory quality. Just look at the pictures above.
• The model shown is supported by a mirror polished stainless steel installation kit.
• This tonneau cover is for the - 1947, 1948, 1949, 1950, 1951, 1952, 1953 Chevy truck. Advanced design stepside 3100.

Link to our own museum site
Rewind Museum. A Museum of vintage consumer electronics.
See
www.rewindmuseum.com/vintagesatellite.htm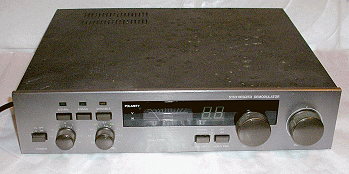 For old Satellite receivers with knobs on!
(and other historic items) - and
Vintage reel to reel video recorders. Vintage VHS
and Betamax VCRs. Vintage video cameras. Vintage
Laser Disc. Vintage Computers. Old telephones,
Old brick mobile phones. Vintage Hi Fi, Old reel
to reel audio and early audio cassette decks.
Including, the history time line of vintage
consumer electronics ... and much more .....
So see,
www.rewindmuseum.com/home.htm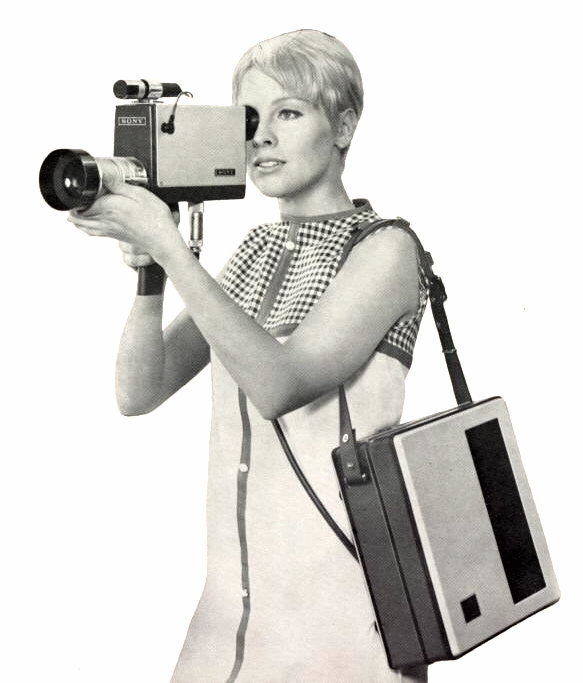 It is well worth a visit.
Only The
Satellite Superstore
brings you
great products, advice and it's own museum


A Useful Search Engine.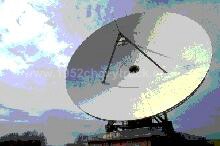 Google.
An excellent very comprehensive search engine. Find everything.
Probably the biggest search engine in the world.
www.google.com

Link to our main site. Satellite TV.
Sponsored by Vision International.
Note. One of our businesses, Vision International (established 1991) sponsors the
1952 Chevy truck site including financial support for this web site.
Vision International is one of a group of businesses that we have in the field of
Satellite TV. This is a link to our sponsor.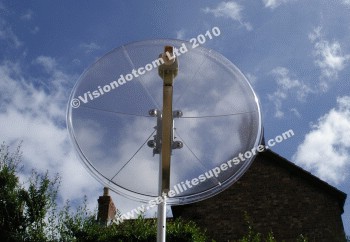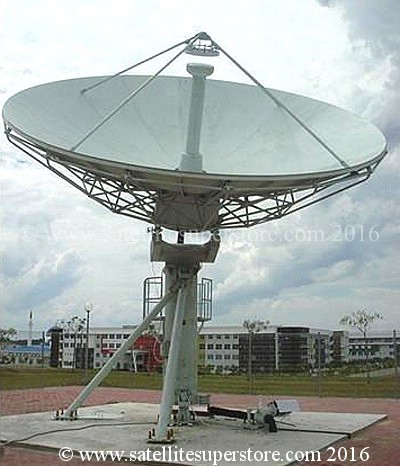 Tune in an extra 10,000 channels? No you don't need a large dish but we do sell
big dishes as well. Watch the world? Links to some of the pages are below,
Satellite dishes
Transparent Dishes
Motorised dishes
LNBs
Satellite Receivers
Mobile / caravan satellite
Multiswitches
Satellite finder meters
All satellite products.
This 1952 Chevy truck web site is maintained on a non-profit
making voluntary basis. Our main business website is at
www.satellitesuperstore.com/cat.htm
Our main business is satellite TV and we are a specialist
satellite company. We supply satellite goods in the UK
and worldwide including fixed and motorised satellite
systems, accessories, and installation equipment.

Web site copyright © 2021 Vision International. All rights reserved.
For all questions & comments about this site's content, contact - Dave
using our
email address -
(We only accept questions in English.)