Modifying a 1952 Chevy Truck. Original bodywork - modern upgrades.
www.1952ChevyTruck.com

Nov. 2015 - Jan. 2016 New fuse box and wiring loom.
The reasons for this upgrade were -
The old fuse box was in a very inaccessible place
It did not cope with the increased current demands of the additional electrical accessories
The wiring needed upgrading to the correct current rating for each load required.
Many joins and additions had been made to the wiring and it was a bit of a "rats nest"
All of these problems meant there was a fire hazard and a new fuse box and wiring was needed.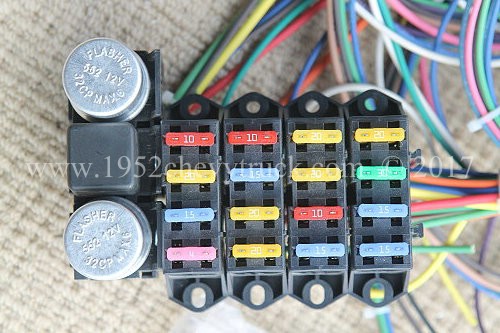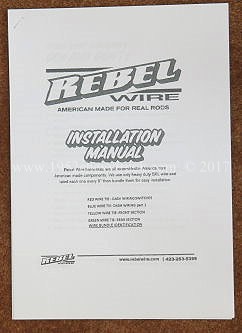 The old fuse box was in the cab on the left hand side just forward of the left hand door above the parking brake pedal.
It was high and inaccessible. The new fuse box was positioned in the cab, centre firewall area just above the floor.
Here seeing the fuses and access to them is easy. Small blocks of wood were glued to the firewall and the fuse box
was screwed to them. This avoided bolts going through the firewall. See pictures of the best location below.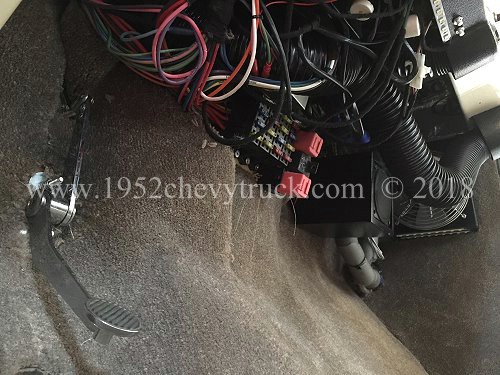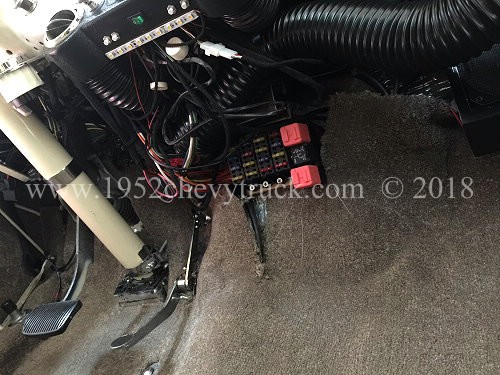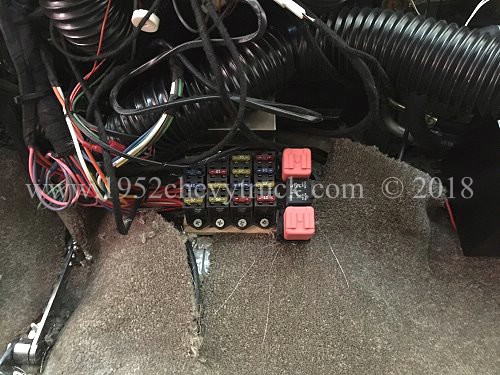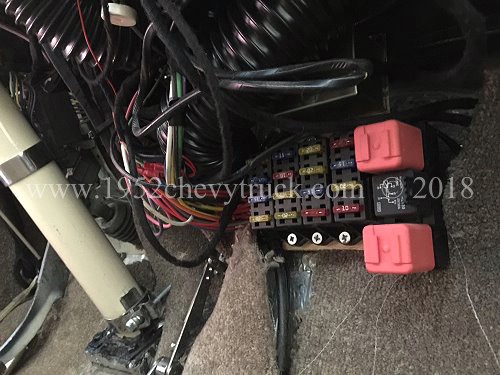 "Rebel Wire 21 Circuit Wiring Harness
This Rebel Wire 21 Circuit takes the Basic Muscle Car Harness then we added Power Doors, Power Windows, Power Seats,
Cruise and Electric Fan Relay Control wire. Assembled with heavy duty SXL wire labelled every 6" and bundled for easy
installation. Comes with Fusible link, 1 1/4 Rubber grommet for firewall. Instructions and Fuse Label.
KIT COMES WITH HEADLIGHT CONNECTORS, 4 1/4 TURN SIGNAL CONNECTOR AND FLOOR DIMMER CONNECTOR."
Other electrical upgrades planned for 2016. (All completed by 2017 see later site pages.)
The
conversion of the gauge cluster
is dealt with elsewhere on this site but there were some other improvements worth noting.
The rear lights were upgraded. The brake lights were replaced with the
latest LED cluster
from Jim Carter truck parts.
The halogen reversing lights were replaced with LEDs. The untidy cables to these lights were replaced with stainless steel
flexible conduit and the lights modified to take stainless steel screw in ends. The filament bulbs in the front side lights
were replaced with LED bulbs.
Many cables under the hood were also covered with stainless steel flexible conduit.
A set of downward facing LED bulbs was fitted below the dash and a switch to turn them on located on the underneath
of the heater controls.
Audible bleepers were connected to the indicator LEDs.
The red bulbs in the end of the bed rolls were finally connected and became extra side lights.
Additional fuses were added inside the battery compartment. A large main fuse supplying all power to the fuse box and
a second large fuse connecting to the alternator.
In October 2016 a motorised radio aerial will be fitted. This will be done without any impact on the truck. No holes
in wings, roof or anywhere visible! See the motorised
electrical aerial
upgrade page.
Update 2017
All of the upgrades listed above were completed in 2016 apart from the
aerial mod
,
which was completed in March 2017.
I did talk about "The big push for completion of this whole project in 2015" but this was too optimistic.
The whole truck was painted in April 2016 and the interior was done in July 2016. Therefore it could be
argued that completion was 7 months late.
However, some "fine tuning work" continues with some jobs though the winter of 2016 and early 2017 as
detailed on this site. In addition, after almost a years development work, a
hard tonneau cover
will be
fitted by the middle of May. 2017. (Completed in 2017 as planned see later pages on this site)
There is also a plan for a couple of jobs in the winter of 2017.
These are -
1. Upgrading the radiator. Must look the same but will be more efficient. Now to be done in 2018
2. New, more attractive compressor and compressor bracket on the front of the engine. Probably 2019
Now detailed on the 2020
engine dress-up
Page.
Update 2020
1. The radiator was upgraded in 2019 but not exactly as planned. The original radiator is still in use
but a massive whole truck
cooling package
has been fitted in 2019
2. A more attractive chrome compressor has been fitted in march 2020 as part of an "
engine dress-up
" package.
Update 2020
additional -
Not planned in 2016/17 was the massive front end upgrade in 2019 which included a new
TCI custom IFS
.
Whilst this plan was not mentioned on this site it had been considered for some time. I was never
entirely happy with the Speedway Motors IFS and so probably the best IFS available was
purchased. All of the reasons and notes are detailed on the new
TCI custom IFS
page.
Click on the banner below to see our new web site.
It is about a new hard tonneau cover (bed lid) for the 1947-53 Chevy truck.
Model - "Zero Impact Ultimate 3100" Tonneau cover. Fit without drill holes in your truck.
You can read about it and you can
order it
. It is available
now
.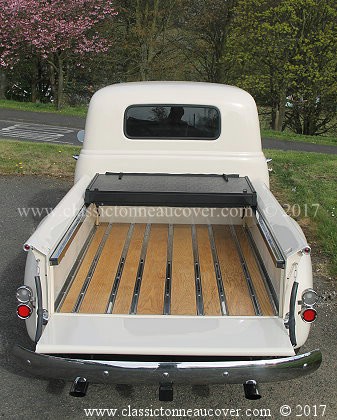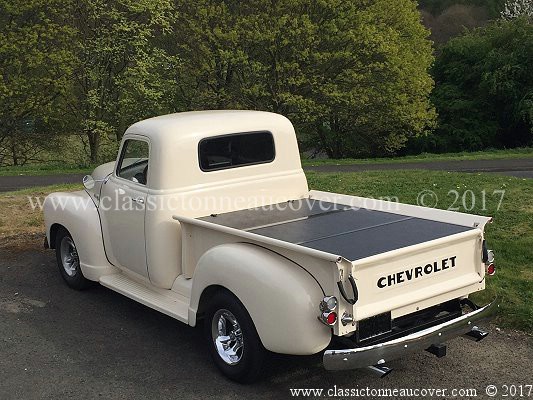 Click on the banner above.
• A hard tonneau cover. Completely rigid, solid and strong. Folding.
• Zero impact. It can be fitted without drilling any holes in the truck. All paint work protected.
• Does not detract from the appearance of the truck. Enhances the appearance of the truck.
• With the cover removed and just the hardware kit showing it still looks "show quality".
• When the cover is fitted but open it still looks excellent and does not detract in any way from the appearance of the truck.
• The cover can be removed in under five minutes.
• All materials and finishes are of the highest quality.
• There is a choice of hardware support finishes to suit painted or patina trucks.
• A water drainage system is included to prevent water from leaking into the bed.
• Better than original factory quality. Just look at the pictures above.
• The model shown is supported by a mirror polished stainless steel installation kit.
• This tonneau cover is for the - 1947, 1948, 1949, 1950, 1951, 1952, 1953 Chevy truck. Advanced design stepside 3100.

Link to our own museum site
Rewind Museum. A Museum of vintage consumer electronics.
See
www.rewindmuseum.com/vintagesatellite.htm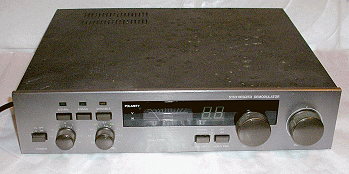 For old Satellite receivers with knobs on!
(and other historic items) - and
Vintage reel to reel video recorders. Vintage VHS
and Betamax VCRs. Vintage video cameras. Vintage
Laser Disc. Vintage Computers. Old telephones,
Old brick mobile phones. Vintage Hi Fi, Old reel
to reel audio and early audio cassette decks.
Including, the history time line of vintage
consumer electronics ... and much more .....
So see,
www.rewindmuseum.com/home.htm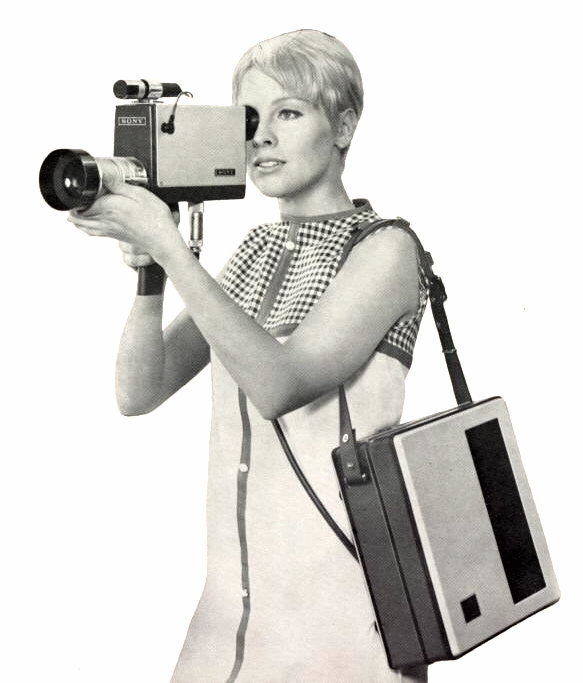 It is well worth a visit.
Only The
Satellite Superstore
brings you
great products, advice and it's own museum


A Useful Search Engine.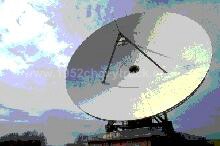 Google.
An excellent very comprehensive search engine. Find everything.
Probably the biggest search engine in the world.
www.google.com

Link to our main site. Satellite TV.
Sponsored by Vision International.
Note. One of our businesses, Vision International (established 1991) sponsors the
1952 Chevy truck site including financial support for this web site.
Vision International is one of a group of businesses that we have in the field of
Satellite TV. This is a link to our sponsor.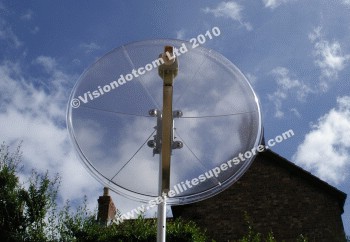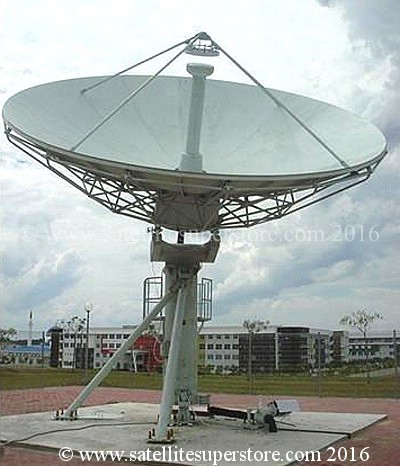 Tune in an extra 10,000 channels? No you don't need a large dish but we do sell
big dishes as well. Watch the world? Links to some of the pages are below,
Satellite dishes
Transparent Dishes
Motorised dishes
LNBs
Satellite Receivers
Mobile / caravan satellite
Multiswitches
Satellite finder meters
All satellite products.
This 1952 Chevy truck web site is maintained on a non-profit
making voluntary basis. Our main business website is at
www.satellitesuperstore.com/cat.htm
Our main business is satellite TV and we are a specialist
satellite company. We supply satellite goods in the UK
and worldwide including fixed and motorised satellite
systems, accessories, and installation equipment.

Web site copyright © 2021 Vision International. All rights reserved.
For all questions & comments about this site's content, contact - Dave
using our
email address -
(We only accept questions in English.)